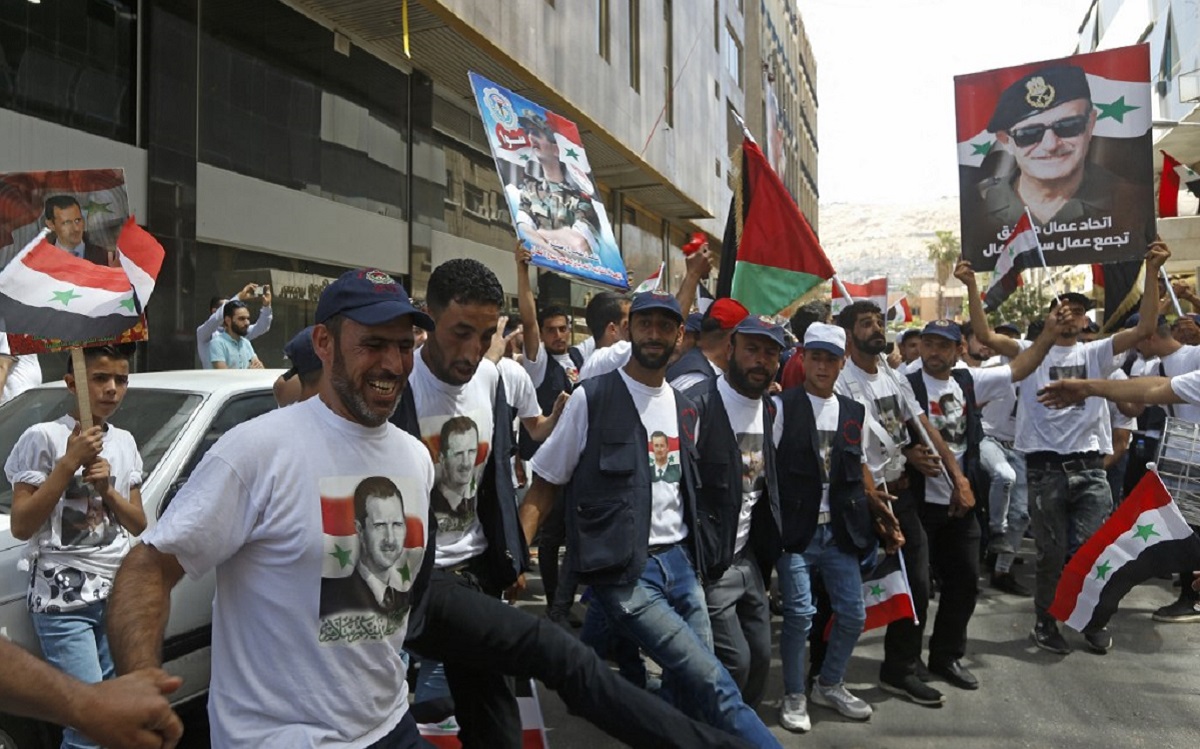 Syrians dance outside a polling station in Damascus on May 26, 2021, as voting for Syria's presidential election started in government-held areas despite Western accusations it was neither "free nor fair". Photo: Louai Beshara, AFP.
President Bashar al-Assad, whose family has ruled Syria for over half a century, is set to win his fourth presidential 7-year term after the vote on May 26. The performative elections come as an effort to cement his image as the only hope for recovery in the war-torn country. 
With President Bashar al-Assad almost certain to hold onto power in Wednesday, May 26 election, Syria will have been ruled for more than five decades by the same dynasty.

Hello. This is your weekly round-up from NOW. It is not necessarily all you need to know, but it may just bring to your attention a few reads and listens that could help make sense of what has been happening around us in the past week. 
Deemed neither 'free nor fair' by the US, as well as France, Germany, Italy, the United Kingdom, the elections were presented as a great festival of love for Assad and his achievements as a leader by Syrian state media. The Electoral Committee even went as far as extending the voting time by 4 hours due to the crowds of voters. 
Assad and his wife, Asma, cast their votes in the city of Douma, in Eastern Ghouta. 
Many were quick to note the sinister symbolism of Assad voting in the town where the Syrian army used chemical weapons in 2018, killing an estimated 100-650 people.
Muffled opposition:  Despite two demonstrations in rebel-held Idlib and Daraa calling out the rigged elections, the poll revealed that Syrian opposition lacks willpower and the energy to return to conflict and prefers to battle Assad in European courts, Syrian analysts told Nicholas Frakes on election day. 
عاد السوريّون إلى الشوارع في #درعا رفضاً لـ«#الانتخابات الرئاسيّة» السوريّة، هاتفين مرّةً أخرى: «الشعب يريد إسقاط النظام». ولم ينسَ السوريّون في تظاهراتهم التي ذكّرت بالأيّام الأولى للثورة السوريّة قبل عشر سنوات، أن يحيّوا الفلسطينيّين في معركتهم ضدّ الاحتلال pic.twitter.com/rlrTq8WxVp

— Megaphone (@megaphone_news) May 26, 2021
According to Vienna-based freelance journalist Ahed Mourad, the Syrian opposition still exists, but it is mostly in exile and focused on bringing the Damascus regime to justice for its crimes during the civil war that started in 2011. On the ground, other than Idlib and Daraa, there is little possibility that the Syrian street movement may be revived after the show of force of the Assad regime. 
Meanwhile, in Lebanon 
Old scars, new provocations: When the Syrian Baath Party mobilized and bused thousands of voters at the Embassy in Baabda for the May 20 diaspora vote in the Syrian presidential elections, the reaction of some groups in the Lebanese Christian neighborhoods was violent. 
Groups of anti-Syrian Lebanese waited for the convoys of chanting supporters of Assad at various crossroads in Beirut, outside the capital, and in the eastern Bekaa region, attacking them with rocks and smashing windows. 

Given the long and violent history of unresolved traumas related to the Syrian occupation of Lebanon that ended in 2005, and also the clear anxieties of the Lebanese Christian parties, regardless of where they stand on the political scene,  in relation to the 1.5 million Syrian refugees in Lebanon the reaction was hardly a surprise, Carnegie Middle East Center's Mohanad Hajj-Ali told NOW.
In response to the attacks on the Syrian voters by supporters of the Lebanese Christian parties, the pro-Syrian Social Nationalist Party marched on Hamra street in central Beirut on May 24.  As Megaphone put it, for a few days, Lebanon seemed to have returned to the civil war atmosphere. 
بعدما تسبّب #الانهيار_الاقتصادي والحجر الصحي بفقدان شارع #الحمرا لوهجه، عاد الشارع أمس الأحد إلى الأجواء الميليشيويّة ونزاعات الحرب الأهليّة.فقد أقام #الحزب_السوري_القومي_الاجتماعي في الشارع عرضاً عسكرياً من دون سلاح شارك فيه بضعة آلاف من المحازبين في #ذكرى_التحرير
./1 pic.twitter.com/zv3ihoXjaq

— Megaphone (@megaphone_news) May 24, 2021
The lingering refugee issue:  While Bashar al Assad prepared for a new mandate and his allies marched through the streets of Beirut, refugees fleeing the war and inhumane living conditions in neighboring countries, including Lebanon, were again knocking at Europe's door. 
On Friday, Cyprus declared a "state of emergency" due to an inflow of Syrian migrants that has flooded its reception centres, appealing for help from the European Union. On Wednesday, Cypriot authorities intercepted a vessel off the island's east coast carrying 97 refugees from Syria.
No booster shot: We have none this week. We're sorry, we should have worked harder on getting you that little bit of happy news, but the events have not made it easy for us to find tales of optimism and strength. But here is a tweet from Sky News producer Larisa Aoun that explains it all: 
After the anger management lesson at the bank comes the humiliation daily dose at the gas stations .. Then starts the pharmacy run to find ur mums medicine!! ????#Lebanon pic.twitter.com/rghHkzyb4h

— Larissa Aoun (@LarissaAounSky) May 27, 2021
Long read: Beirut-based writer Angela Brussel asks important questions on the ethics of memorialization, reflecting on an architect's proposal for a Beirut Memorial Park on the August 4 blast site and the ethical problems of building a museum of pain. Find the essay here. 
Lebanon+ 

As usual, we've put together a quick round-up of Lebanese influencers' broadcasts on everyday life in Lebanon to show what real life is beyond the mainstream media. 
First of all, Clubhouse is trending. Tala Ramadan, our chief social media producer, looked at how Lebanese youth take to Clubhouse to audio-grill politicians and discuss emigration as well as job and economic crises. 
During their Sarde Show, Journalist Medea Azouri and Mouin Jaber spoke with comedian Shaden Fakih about her latest interaction with Lebanese Law Enforcement, queerness, and political issues. The episode is full of funny moments with Shaden's signature mélange of bawdy humor and unapologetic honesty. 
Meanwhile, Ronnie Chatah, the host of Beirut Banyan, released an episode with Albert Kostanian, where they discuss nuanced optimism regarding the future of Lebanon and a broader calling for political agency and shared destiny. They spoke about examining illusive pillars that are gradually fading, missed opportunities at addressing reform, and the power of independent voices emerging on alternative media.
In their latest episode of "Yaskot Hokm El Fased," journalists Riad Kobaissi and Hadi al-Amine condemned the Lebanese judiciary after their research revealed audio recordings of brokerage agreements related to Turkish power barges, explaining that the calls took place between three parties: Ralph Faysal, the Turkish company's Lebanese agent who is close to both Gebran Bassil and Saad Hariri, Ahmad Safadi, Minister Mohammad Safadi's nephew, and Fadel Raad, the mediator between the two. 
During the live show, Hadi Al-Amine called on Judge Ali Ibrahim to step down since he participated in Faysal's escape when he released him and turned a blind eye to the travel ban imposed on him.
From now until next week, despite the grim news, we hope you stay positive and test negative!