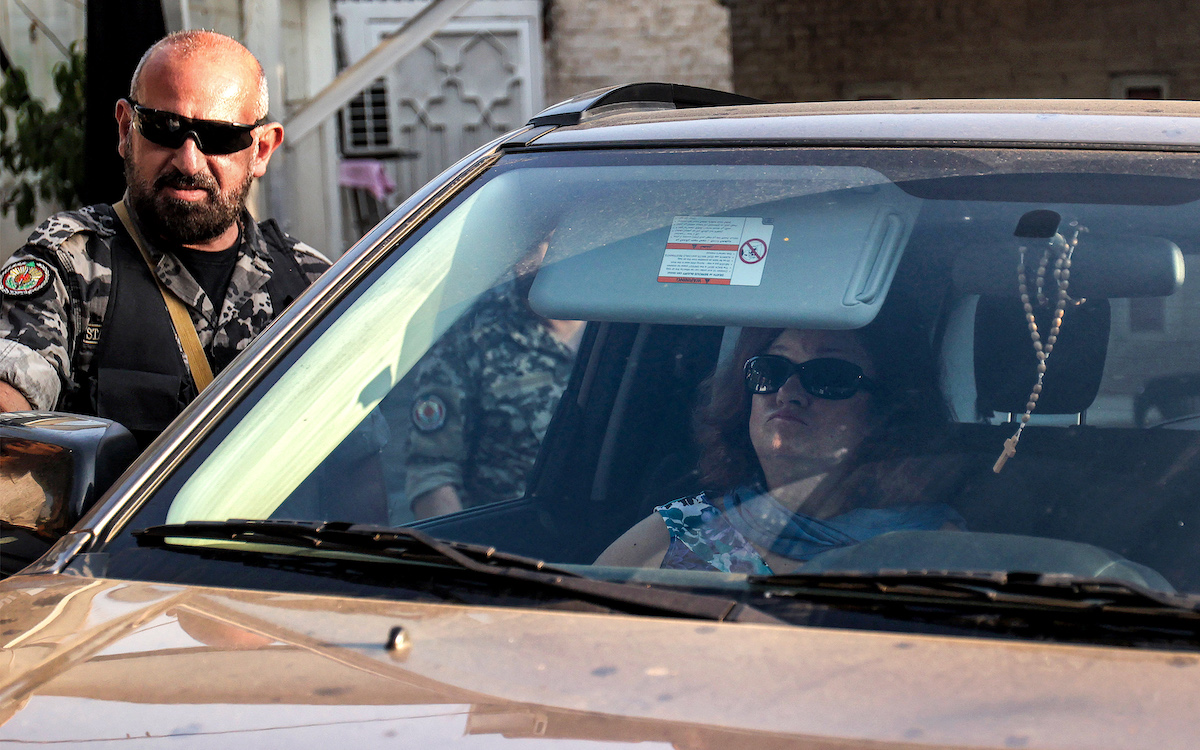 Judge Ghada Aoun, the Mount Lebanon state prosecutor who has charged Lebanon's central bank Governor Riad Salameh with illicit enrichment, sits in a vehicle as security forces guard an unoccupied house belonging to him after a raid on her orders on June 22, 2022. Photo: Anwar Amro, AFP
Judge Ghada Aoun is a polarizing figure in Lebanon.
She has long been criticized for her political connections and her seeming unwillingness to prosecute individuals affiliated with the Free Patriotic Movement, with the recurrent issue of the politicization of Lebanon's judiciary. She has also been mocked for some of her methods, such as when she oversaw a raid on the Central Bank (BDL) on July 19, 2022.
Despite all this, Aoun has won some support for her unwillingness to stop her investigations into the longstanding issue of corruption in Lebanon, and the officials involved in it, despite political pressure.
All of that, though, came to an end on May 4 when Lebanon's judiciary disciplinary council decided to dismiss her citing "bias".
"They are punishing me for doing my job," the judge said following the decision.
Aoun said that she has appealed the decision, which will allow her to keep practicing law until a verdict is reached on the appeal.
The case had been brought before the disciplinary council after numerous complaints were filed against her over the cases that she was investigating.
Following the council's unanimous decision, independent judges and lawyers condemned the verdict, with Nizar Saghieh, head of the Legal Agenda, calling it a "heartbreaking message to a judge that tried to take on major criminals."
Indeed, the message sent to Aoun and others looking to take on corruption in Lebanon was clear: You can investigate corruption, but stay away from the people in power or else you will be stopped.
Criticism of Aoun is more than warranted as she is far from being the savior that will end corruption in Lebanon, but anyone who wants to see change in the country should be angry at her dismissal as, despite everything, Aoun was attempting to take on corruption at the highest levels.
In Lebanon
In better health: After refusing to show up to a scheduled interrogation with European investigators last week due to supposed ill health, Raja Salameh, brother of the embattled Central Bank Governor Riad Salameh, finally appeared for questioning on May 4 as part of a probe into alleged financial crimes involving the Salameh brothers and some of their associates.
The questioning reportedly lasted for seven hours, with Raja also to appear in front of prosecutors in France later this month.
The Salameh brothers are accused of financial-related crimes such as money laundering and embezzlement.
Both Riad and Raja deny any wrongdoing.
Murderer in California charged: Carlos Dominguez, a 21-year-old former university student in northern California, has been charged by prosecutors with two counts of murder and one count of attempted murder following a series of stabbings around the University of California, Davis over a week ago.
One of the victims was Karim Abou Najm, a Lebanese student who had moved to the US in 2018, who was killed while walking home from an awards ceremony.
Abou Najm's father said that the family moved to the US in the hopes of finding safety, just before the economic crisis began in their native Lebanon.
Prosecutors said that Dominguez is eligible for a life prison sentence without the possibility of parole, or even the death penalty, although the latter is unlikely as California has not executed anyone in 17 years.
Clashes in Beddawi: Members of the Arab Front and Fatah clashed in the Beddawi refugee camp, north of Tripoli, over the weekend.
The fighting stemmed from a personal dispute between members of the Arab Front and members of the al-Arif family who are associated with Fatah.
When there was a lull in the fighting, Palestinian factions in the camp worked to establish a ceasefire. 
Two people were injured in the fighting.
Another one bites the dust: It appears that former Prime Minister Saad Hariri is going to have some company abroad, as caretaker Prime Minister Najib Mikati is reportedly set to leave Lebanon following the election of a president and the formation of a new government.
Mikati would be the second former prime minister in almost as many years to announce that they would be leaving Lebanon and not looking back, with Hariri being the first when he announced on January 24, 2022 that he was leaving Lebanese politics.
Mikati's departure is reportedly due to internal and external pressures on him to not return to the premiership after the election of a president.
Mikati is also supposedly considering pulling all of his investments in Lebanon following his departure.
No no no: Gebran Bassil is continuing his opposition to Sleiman Frangieh for the presidency, and has continued to refuse to name any candidate as the deadlock surrounding the election of a new president persists after Michel Aoun left office 189 days ago.
Bassil said that there is no Christian support for Frangieh and that Saudi Arabia's lack of interest in explicitly backing any individual candidate does not go in Frangieh's favor.
Lebanon's political class is divided and unable to elect a new president and Bassil has refused to support or name any candidate, likely in the hopes that the parties will eventually support his candidacy even if it is reluctantly.
The last session held to attempt to elect a president was on January 19.
In the region
A good year for Assad: Syrian President Bashar al-Assad has been having a good year, as several countries in the region announced that they would be reestablishing diplomatic relations with his government, with Saudi Arabia arguably being the biggest coup.
Now, though, Assad has achieved an even bigger victory in his attempts to normalize regionally and globally after it was announced that, after 12 years, Syria would be readmitted into the Arab League following its expulsion in November 2011 due to the brutal crackdown by the Syrian government's security forces during the Arab Spring.
The move was widely condemned by opponents and critics of Assad and his rule, as he is accused of war crimes and brutalizing his citizens.
While Syria's reintegration into the league is a big step towards it no longer being a pariah state, there are still many countries in the region, including Egypt, that have so far refused to reestablish relations with Assad. But, should terms be set, this is something that could also change.
Special privileges: Israel's ultra-orthodox community have long been criticized by some of the moderates in the country for the special treatment that they receive from the government.
This debate has once again entered the public sphere as Israelis called out these perks, specifically their exemption from serving in the military so that they can study religious texts.
A new planned "kosher electricity" system has also stoked criticism as it would be an electricity program specifically designed for the ultra-orthodox community but paid for by all Israelis.
The ultra-orthodox helped to bring Prime Minister Benjamin Netanyahu back into power and if he refused their demands, then they could pull their support and topple the government.
The death of Khader Adnan: The Palestinian prisoner Khader Adnan, who gained notoriety for his hunger strikes while in captivity, died on May 2 after an 87-day hunger strike, leading to a confrontation between Hamas and Islamic Jihad in Gaza and Israel.
Israeli authorities claimed that the alleged member of Islamic Jihad had refused medical treatment, but this was disputed by his lawyer who said that Adnan had himself said that he needed to be hospitalized.
Adnan had successfully led several hunger strikes in the past that helped lead to his release from "administrative detention," a term used by Israeli authorities that essentially means that they can hold someone in prison for as long as they want without charging them or holding a trial.
The famed prisoner's body still has not been released by Israeli authorities. The practice of withholding Palestinian bodies has long been utilized by Israel to deter attacks, and so that they can use the body in future prisoner exchanges.
Syrian drug lord killed: A notorious drug lord and his family were killed in an air attack by Jordanian forces in southern Syria on Monday, May 8.
Marai al-Rathman, along with his wife and six children, were killed in the Sweida province near the Syrian-Jordanian border according to the Syrian Observatory for Human Rights.
Al-Rathman was considered to be one of the most prominent and successful drug smugglers in the area, notorious for moving drugs into neighboring Jordan.
Jordan has been calling on Syria to crack down on drug smuggling, with the Syrian government and military being linked to the production and smuggling itself.
What we're reading
The tool: When it comes to Lebanon's elections, politicians and candidates pull out all of the stops in their efforts to make it into office. NOW's Dana Hourany found that the presidential elections are no different as Syrian refugees and the debate around their return to Syria has become a tool for the political forces.
No action: In the past, the international community has often weighed in on who should be Lebanon's president or prime minister and how quickly an election happens. But, this time, the lack of action by the international community has allowed the ongoing stalemate in electing a president to continue.
New targets: In the aftermath of the nationwide uprising in Iran, the Iranian government has tried to reimpose the mandatory hijab law. However, The New York Times's Vivian Yee and Leily Nikounazar found that the government has taken to targeting businesses, along with individuals, in an attempt to reimpose the law.
Lebanon+
Podcasts: Taking care of one's individual well-being is extremely important. So, in this week's episode of Sarde after dinner, Médéa Azouri and Mouin Jaber spoke with life coach Hala Kazim about the differences between good and bad positivity, relationships and women in society.
They say that a picture is worth a thousand words and few know that better than photographer and AUB lecturer George Azar who joined Ronnie Chatah in the latest episode of The Beirut Banyan to discuss time in Lebanon during the civil war, the Israeli invasion of Lebanon and photographs that he took during the 1980s.
Until next week, follow NOW Lebanon on Twitter, Instagram, Facebook, and LinkedIn, and subscribe to our weekly newsletter. And stay safe!