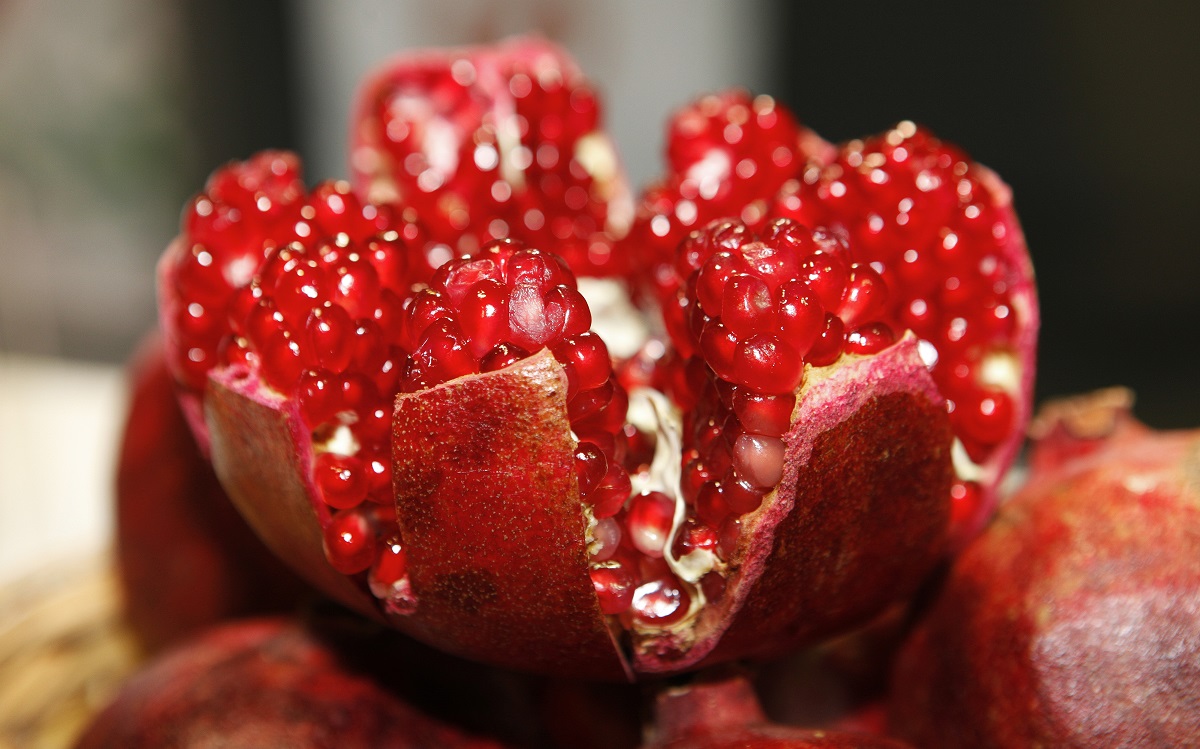 Saudi Arabia enforced a ban on Lebanese fruit and vegetable imports after security found Capatagon in a pomegranate shipment coming from Beirut. Photo: Pixabay.
Categorized as a berry, the red pomegranate fruit is about 5–12 cm in diameter. The skin is thick and inedible, but its hundreds of seeds inside are surrounded by a red, juicy and sweet covering known as aril. Sometimes, when shipped from Beirut to Saudi Arabia, the pomegranate may contain Captagon instead of seeds.
Hello. This is your weekly Lebanon newsletter from NOW. It is definitely not all you need to know, but it will highlight a few good reads and listens to figure out what on earth is happening around us lately.
Long story short, this is Lebanon for you these days:  
Hamoudi, my daily veggie and fruit supplier in Mar Mikhael, was happy this morning because his shop has been full of fresh and quality produce for the past few days. A month ago, he was complaining that he was not getting fruits and vegetables at the same quality because farmers preferred to export.  
He is probably one of the few who benefited from the Saudi ban on Lebanese produce.
Lebanon's farmers are rushing to find new buyers for their produce after the Saudi ban on fruit and vegetable imports from the country sent prices into freefall, the local bureau of the Emirati daily The National reports.
The impact is dramatic on the Lebanese industry. For farmers, Saudi Arabia was the main source of what Lebanese call "fresh dollars", as opposed to "Lebanese dollars" or "lollars" (pun intended) which are sold by banks at half the market price. (Don't get it? Don't worry. It's chaos. And it's probably the most complicated financial system in the world right now. You'll get there slowly. . )
The bottom line is that this whole pomegranate-Captagon scheme has been going on for at least six years, according to Saudi officials. Why impose a ban now of all times, when this tiny country is struggling with a terrible economic crisis?
An Nahhar commentator Nabil Boumounsef told our colleague Nic Frakes that Riyadh simply wants to put its foot in the door and send a message to who it sees as "the wrong people in power" – Hezbollah and the Free Patriotic Movement – to stop delaying government formation and get on with the bailout plan.  
Nic's been busy this week because he also tried to get to the bottom of the government deadlock and put together a dossier on why it's so unlikely for the Free Patriotic Movement to reach a compromise with Prime-Minister Designate Saad Hariri. Here's the long read, starting from Taif and ending with the unicorn technocrats.
Does the end justify the means? In the case of the Saudi ban, we'll have to wait and see. Suddenly, security agencies in Beirut are seriously investigating smuggling activities and porous borders, as they say the pomegranates came from Syria and left Lebanon by sea.
MP Assem Araji said in an interview with "Voice of All Lebanon" radio on Wednesday that "stopping smuggling networks is very difficult, in light of the absence of controls on illegal crossings as well as on legitimate crossings."
What he really means is that Lebanon's border with Syria is largely ignored and smuggling has been a way of life for the border communities for decades. Those roads have been used to smuggle everything, from fuel to people and to drugs, into Lebanon and through Lebanon.
Speaking of Syria, the Saudi ban is not the only thing Lebanese farmers are worried about. A rare invasion of locusts coming from Syria is also putting their crops at major risk. A worrying number of people are talking about the Bible and Moses, and it's not because of the Orthodox Easter lockdown coming up this week end.
In other news from the skies, Israeli forces brought down a drone belonging to Hezbollah that crossed into northern Israel from Lebanon on Tuesday, the Israeli military said. Hezbollah didn't confirm or deny the claim, and its main media outlet, Al Manar seems to be focusing its  reporting on Iranian affairs. But no big deal, it's hardly the first gunned down drone and any escalation over that is unlikely.
COVID-19 vaccine rollout goes on, slowly and not so surely, with politicians racing to offer the SputnikV jabs to their constituents, Tala Ramadan reports. Lebanon approved the use of the Russian vaccine, despite the European Union still investigating its efficacy and possible side effects. The investigation is dragging due to a lack of proper documentation submitted and some ethical aspects of the trials.
A booster shot: If you're feeling down and pomegranate juice is not doing the trick, read the incredible story of a young Lebanese man who had a dream and is sacrificing everything to make it real.
Matt Kynaston spoke to Nadim Salloum, a scrappy boxer from Adonis who made it to the professional league in New York with help from friends and a lot of determination.  Yes, you can!
Lebanon+ : If you are able to take a deep breath, brace yourself and scroll through Lebanese Twitter or Instagram without getting angry at the lack of action by the government in Beirut and politicians avoiding the real conversation, using the same tired metaphors over and over again, you may want to check a few Lebanese influencers' broadcasts on daily life in Lebanon.
The Lebanese Physicians' Podcast released an episode on "Doctors on the Frontline". It's a talk about the role doctors played in the October 17, 2019 protests as well as the exodus that followed the economic collapse and the COVID-19 crisis. Tune in on Youtube.
On her Instagram live sessions "Beyond Politics", journalist and influencer Luna Safwan spoke to Mariam Keserwan the woman behind the @lebanonuprising page about the Judiciary, the borders, smuggling, the alternative economy, Hezbollah and other regional issues.
Meanwhile, Ronnie Chatah, the host of Beirut Banyan, will release an episode with Ramzi Abou Ismail, political psychologist focusing on identity. It will be out Sunday at 7pm.
Listen to  one of these podcast episodes while training for the Beirut Marathon or  doing your evening walk to stay in shape during the pandemic.
Until next week, keep safe and wear your mask.