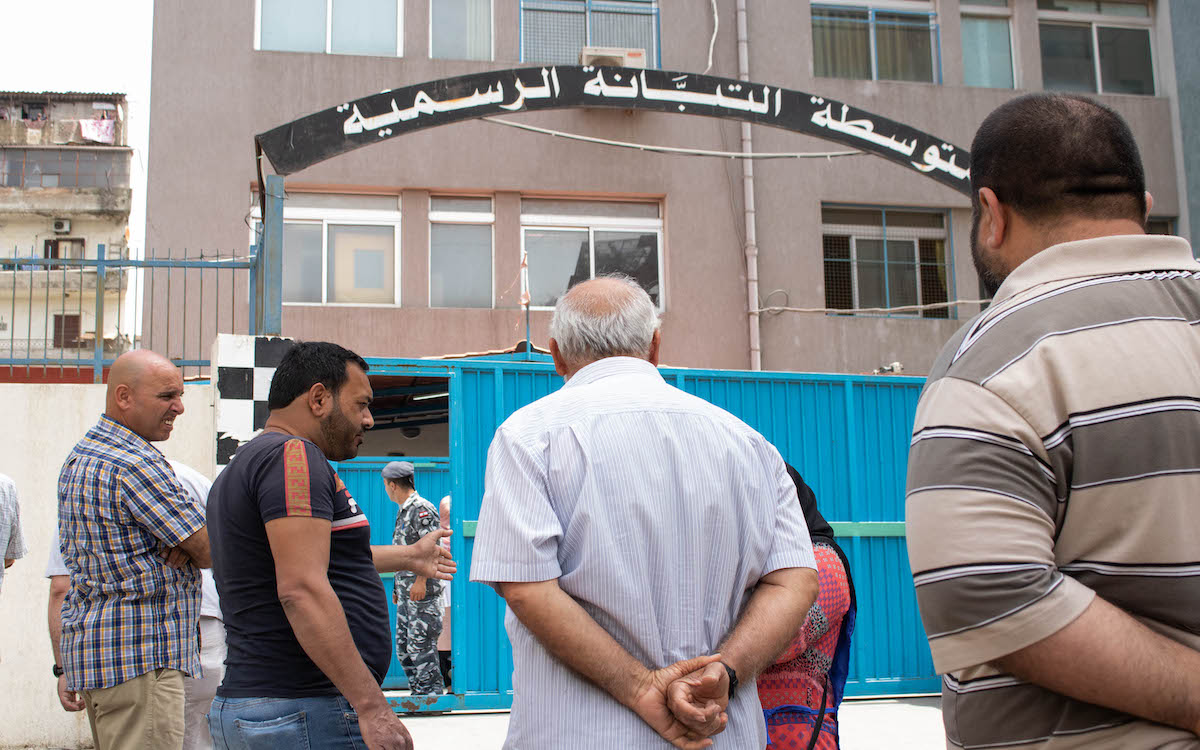 Voters wait outside of a polling station in the Bab al-Tabbaneh neighborhood of Tripoli during the May 15, 2022 parliamentary elections. Photo: Nicholas Frakes, NOW
Bassam Borghol sat on a chair on the side of the road in the Bab al-Tabbaneh neighborhood in Tripoli smoking a cigarette.
It was the morning of Lebanon's parliamentary elections, the first since the October 17 uprisings in 2019 and the August 4 Beirut Port explosion in 2020, and the 64-year-old had no intention of casting his ballot, despite the polling station being across the street, just meters away.
Borghol did not see the point in voting. According to him, what had the politicians ever done for the country except lead it to economic collapse?
"The politicians steal the money and don't allow this country to flourish… And they leave the citizens starving and just control them. Because they are starving, the politicians are able to control them. This is our problem in Lebanon," Borghol told NOW. 
For Borghol, elections were not part of the solution.
However, not everyone in the impoverished neighborhood shared his views.
While voters in Tabbaneh only trickled into the polling centers, like in the rest of Tripoli, many of them were voting for Ashraf Rifi, the former general director of the Lebanese Internal Security Forces and former justice minister in the Tammam Salam government, and his list, backed by the Maronite Christian Lebanese Forces, a right-wing Saudi-backed political party.
This was not necessarily because they supported Rifi and the Lebanese Forces. Rifi had unsuccessfully run in parliamentary elections before, losing out to Saad Hariri's Future Movement, Najib Mikati's Azm Movement and Faisal Karame's Dignity Movement.
Fears over Hezbollah's domination of the country were at an all-time high, and that was a major motivation for voters to cast their ballots for Rifi and the Lebanese Forces, who are both vocally opposed to Hezbollah.
"I love the [Lebanese] Forces," Mohammad Ali, 60, told NOW. "I love Samir Geagea. Anyone who works with Samir Geagea, I love them as well. They are against Hezbollah."
By the time the official results came out, Rifi and the Lebanese Forces had won three of the five seats in Tripoli as they were able to capitalize on Tripolitan's fear of Hezbollah.
Voting out of fear
When Hezbollah first joined the Lebanese political scene in 1992, it did not have much of a role, much less any political alliances.
They only held three of the 128 seats in Parliament and showed no interest in being a part of the government. It continued this way for almost a decade and a half, until former Prime Minister Rafik Hariri was assassinated on February 14, 2005.
After this happened and the Special Tribunal for Lebanon (STL) was established, the Party of God quickly upped its political game-winning more and more seats. It joined the government and formed coalitions with Speaker of Parliament Nabih Berri's Amal Movement, the other leading Shiite party in Lebanon, and Michel Aoun's Free Patriotic Movement, which remained the largest Christian party in Lebanon until the recent election.
Since 2006, Hezbollah has increasingly grown in stature, becoming arguably the most powerful political player in Lebanon. The party won 13 seats in the 2018 election and over 70 when counted along with its multiple alliances.
For Tripolitans, a primarily Sunni community in Lebanon's second-largest city, the possibility of Hezbollah growing more powerful was cause for concern. Tripoli usually elected candidates from the Future Movement led by Saad Hariri, son of Rafik Hariri, who was opposed to Hezbollah, despite having led several governments with Hezbollah ministers.
This concern quickly turned into alarm after the younger Hariri announced his retirement from political life on January 24. Now, Tripolitans no longer had their buffer against Hezbollah and feared that the Iran-backed militia would look to expand into Lebanon's north.
They're letting people pay even though they are not providing electricity. They tell us to vote and that they will pay for the electricity for this month, but the next month is on us. Who should I vote for? There is no one. They are all liars.
Indeed, when the list of candidates was announced, parties close to Hezbollah were making a push for more seats in this election.
As its own candidates' seats were all but secured, Hezbollah looked to support its allies to maintain its parliamentary majority and even further expand it. Meanwhile, Samir Geagea and his Lebanese Forces party were also looking at filling the gap in places like Tripoli, all the while attempting to block Hezbollah and its allies from gaining a foothold in the region.
For Tripolitans living in fear of Hezbollah, Rifi and the Lebanese Forces did not have to sell themselves too hard in the city. Claiming that they will fight Hezbollah proved to be enough.
"I will only vote for Rifi and the Lebanese Forces. The rest can go to the garbage," Ali stated firmly.
Hariri had long been a staple of the Tabbaneh neighborhood, amassing an outpouring of support from its residents, but that support was not only reserved for him and his party. Hariri's allies, such as Geagea and the Lebanese Forces, also enjoyed some support from the neighborhood. What mattered was that they were opposed to Hezbollah.
"We are with whatever party that is against Hezbollah," Ali said.
Hariri's absence did not diminish the support that the residents had for him, as Ali's 50-year-old cousin, who asked to remain anonymous, explained. But to the Tabbaneh residents, Hariri and his supporters were all the same.
"We like Hariri and we are with him," Ali's cousin told NOW. 
"Rifi is Saad Hariri. Geagea is Saad Hariri. We are against Hezbollah," he explained.
While Rifi and his list were able to win multiple seats in this election, Tripoli had the lowest voter turnout in all of Lebanon, which stemmed from intense apathy when it comes to the country's politicians after decades of false promises, neglect, and systematic corruption.
'Nothing has changed'
Tripoli is known in Lebanon as being one of the poorest and most neglected cities in the country.
For years, politicians would make promises during their electoral campaigns, only to disappear as soon as the election was over, not to be heard from again until the following election.
Now, after decades of empty words, many Tripolitans are not interested in whatever candidates have to say.
"If you are going to vote, then they should do something for you [after they are elected]," a 60-year-old woman, who asked to remain anonymous, told NOW. "But they [the politicians] don't do anything."
Even Tabbaneh residents like Ali and his cousin who said that they were planning on voting for Rifi admitted that the politicians in power are the reason for the economic crisis that has befallen the country.
"They are all thieves," Ali stated. "They put money in their pockets and say goodbye to the country, not even asking about how the people are doing. Their children go to school in America, France or whatever."
His cousin pointed out that Lebanese are literally risking their lives by trying to get smuggled on boats across the Mediterranean in order to get to Europe. One of the most recent smuggling attempts led to over 20 people dead or missing and presumed dead, sparking protests in Lebanon's northern capital.
"People's bodies are still stuck in the boat and the government isn't doing anything about it," Borghol exclaimed. "Lebanon doesn't even have scuba divers to actually help in this matter. Even they cannot afford to get scuba divers."
Leave the people to die at their own pace, don't kill them before their time.
With the decades of empty promises, Borghol has little faith in anything the candidates said, believing that they were all talk and no action, specifically citing Gebran Bassil's statements when he was minister of energy and promised to provide Lebanon with 24 hours of electricity per day. Currently, the government only provides around two to three hours per day due to an inability to afford the cost of fuel.
"Now we are in the dark. There is no fuel or gas," he stated. "They're letting people pay even though they are not providing electricity. They tell us to vote and that they will pay for the electricity for this month, but the next month is on us. Who should I vote for? There is no one. They are all liars."
The corruption and financial and economic mismanagement that took place in the Lebanese government has led to an economic collapse that has seen the value of Lebanon's national currency drop by upwards of 95 percent and the prices of basic goods, such as food, skyrocket to well beyond affordability for many, including in the impoverished Tabbaneh neighborhood.
"Leave the people to die at their own pace, don't kill them before their time," Borghol stated solemnly.
Borghol did not fault the residents of Tabbaneh who continued to support establishment politicians and parties like the Lebanese Forces. Instead, he viewed it simply as the result of their upbringing, having grown up seeing their parents support these politicians and believing that it is the right thing to do, likening it to a "father who raises his children."
"The minute the child opens his eyes, he sees his father following a certain leader," he said. "Of course, the child will follow this leader like his father. If the father sells drugs, the son will become like his father because if his father tells him to go sell this drug, he will obey his father because he thinks this is right."
Despite the low voter turnout, primarily establishment politicians won seats in Parliament for the North II district, save for Rami Fringe, who ran on the opposition list Revolt for Justice and Sovereignty.
Now that the elections are over, the Lebanese people can only wait and see if their votes will help bring about the end of the financial crisis and begin the process of rebuilding the country.
But for those like Borghol, who believes that he will be dead long before the situation in Lebanon improves, there is little hope for the future.
"In my entire life, Tabbaneh is still the same," he stated. "All of the areas are still the same. Nothing has changed."
Nicholas Frakes is a multimedia journalist with @NOW_leb. He tweets  @nicfrakesjourno.
Rayanne Tawil contributed in translating to this report.