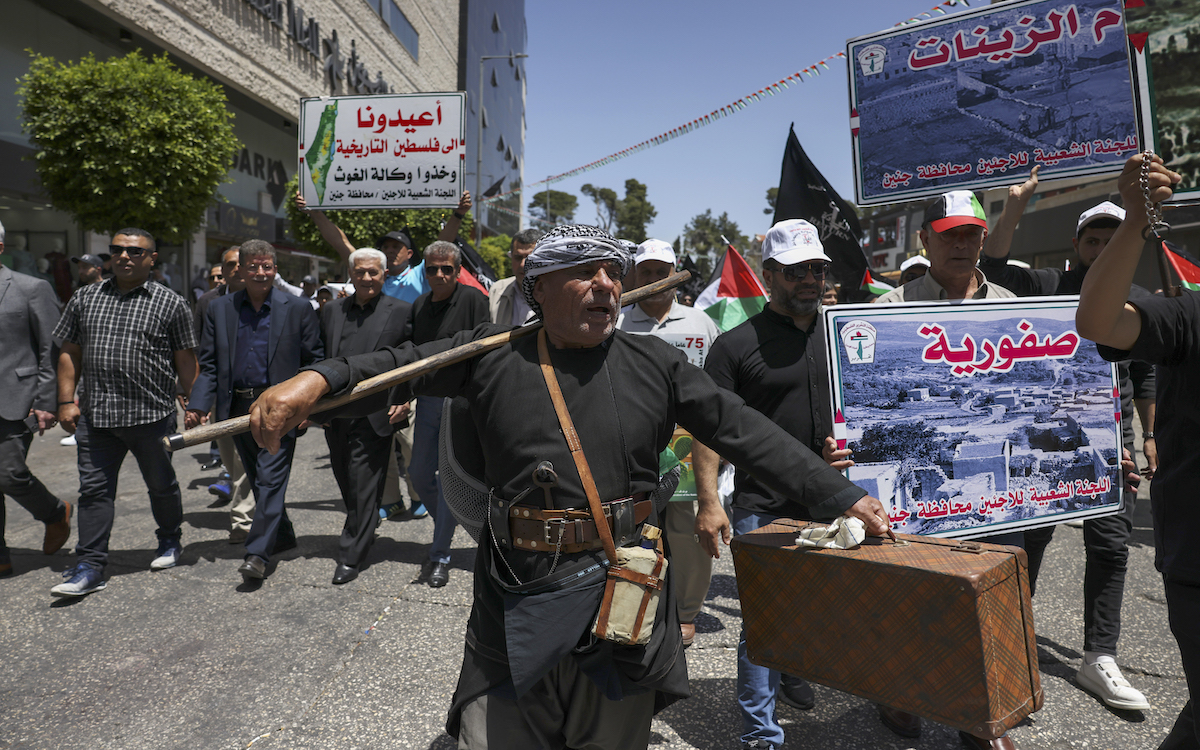 A protester carries luggage symbolizing Palestinians who fled or were expelled from their homes 75 years ago during a rally marking 'Nakba' day in the Ramallah city center in the occupied West Bank, on May 15, 2023. May 15 marks the "Nakba", or catastrophe, when hundreds of thousands of Palestinians were displaced from their homes following the creation of Israel 75 years ago. Photo: Hazem Bader, AFP
Over the weekend, Israel and Jews around the world celebrated 75 years since its modern founding after the end of World War II, something that forever changed and reshaped the Middle East.
However, during the same period, Palestinians remembered the Nakba, catastrophe in Arabic, which marked their forced displacement when Israel was founded.
Nakba Day, while gaining more public acknowledgment thanks to social media, is not widely recognized on an international scale, and is a solemn occasion for Palestinians around the globe.
The "catastrophe" that the Palestinians speak of is that countless Palestinians that were forcibly displaced from their homes to make room for the founding of Israel, and the many, many others who were killed when they refused to do so.
While Jews were given a home and a state, it came at the cost of the Palestinians'.
This is something that some Jews acknowledge and condemn, saying that they stand with the Palestinian people in their suffering.
There has been greater acknowledgment in recent years of the Israeli occupation of Palestinian land and the brutality and racism that exists in this occupation, but little to nothing has been done about it.
The West, for the most part, refuses to do anything serious about the occupation and only really puts out statements when there is violence, but even those statements often swing in Israel's favor.
Some Arab states have long championed the Palestinian cause, but this has mainly just been in the form of rhetoric, with little action actually being done to help the Palestinians.
During the Syrian Civil War, the Syrian government even waged a bombardment on the Yarmouk Refugee Camp in Damascus, further displacing Palestinians.
Lebanon has an even more fraught history with the Palestinians.
Conflict with Palestinian militants not only led to the start of the civil war in 1975 but also to the Israeli occupation of South Lebanon in 1982.
Generations of Palestinians continue to live in squalor conditions in Lebanon and are primarily relegated to cramped refugee camps that are largely ignored.
Even as Palestinians around the world continue to campaign for change, it is hard to imagine that on the next anniversary of the Nakba, much will have changed.
In Lebanon
No relations: Hezbollah's secretary-general, Hassan Nasrallah, has denied that the group had any ties to Merhi al-Rathman, a notorious Syrian drug smuggler that was killed earlier this month by Jordanian authorities.
Activists have asserted that al-Rathman worked closely with militias associated with the Syrian government and Hezbollah, both of which have been linked to the drug trade.
Nasrallah argued that it would have been noticeable if the group had been making billions of dollars from drug trafficking and that it was with Hezbollah's help that the Lebanese authorities were able to take down drug kingpins in Lebanon.
Despite these claims, Hezbollah has remained associated with drug smuggling, Captagon in particular.
Under arrest: German authorities arrested two Lebanese men, one of whom had duel German-Lebanese citizenship, for allegedly working for Hezbollah and trying to support the group in Germany.
The men are alleged to have used their positions in Lebanese associations in Germany to help the Iran-backed group internationally and spread its ideology.
Germany banned Hezbollah as a whole in 2020 after years of only targeting its military activities.
Germany has been increasingly cracking down on Hezbollah's activities in Germany.
Banned: The United States seized 13 Hezbollah-affiliated websites on May 11 in its most recent move targeting the group.
The websites in question included several affiliated with the Hezbollah-funded news station Al-Manar, the charities Martyrs' Foundation and Emdad Committee for Islamic Charity, and others affiliated with Hezbollah officials.
While several domains related to Al-Manar are no longer active, the outlet's main website remains active and untouched.
Through the roof: The Central Bank has decided to raise the rate of the "customs dollar" to 86,000 to $1.
This decision will be in effect from May 13 until May 31 at which it could be extended or raised once again.
Raising the customs dollar rate is likely to contribute to rising prices and worsening inflation, making it even more difficult for Lebanon's population to afford basic goods.
Go big or go home: The US mission in Lebanon has come under criticism after a photograph of the construction work on the new US embassy in Lebanon was posted on social media.
The sprawling compound is more than twice the size of the White House's property, is reported to cost upwards of $1 billion.
Critics have questioned why the US needs such a large embassy compound in Lebanon, one that is set to be one of the largest in the world.
Lebanese man dies in custody: Ghazi Ezzedine, 55, died while in custody in the United Arab Emirates at the start of the month.  with a committee of family members of those detained in the UAE saying that Ezzedine died under torture.
UAE authorities also denied Ezzedine's family's request to have his body returned to Lebanon for burial.
In the past, the UAE has arrested people on charges of working with Hezbollah, but it was not made clear why Ezzedine and eight others were arrested in March.
Lebanon's envoy to the UAE later received a letter from the family saying that Ezzedine had died from heart problems.
Presidential election update: Lebanon has been without a president for 195 days.
There have been no indications that the politicians have agreed on a name and that a president will be elected soon.
In the region
Turkey votes: On Sunday, May 14, Turks throughout the country went to the polls to vote on the presidency and elect a new parliament.
The presidential election has been hotly followed throughout the world, as the current president, Recep Tayyip Erdogan, looks to maintain his 20-year rule and his opponent, Kemal Kilicdaroglu, hopes to unseat him.
However, it appears that the election will go to a run-off election on May 28, as neither candidate has received more than 50 percent of the vote.
Erdogan's Justice and Development Party appears to have won the majority of seats in Parliament, but results are still being calculated.
Renewed fighting: After five days of fighting, Islamic Jihad in Gaza and Israel agreed to an Egypt-brokered cease-fire on Saturday, ending the latest round of fighting that killed over 30 Palestinians and two Israelis.
The most recent bout between the two was started by Israel on Tuesday when it carried out airstrikes on Islamic Jihad leaders.
Israeli authorities claimed that Islamic Jihad was planning an attack, although some have said that the bombardment of Gaza was also appeasement by Israeli Prime Minister Benjamin Netanyahu to the far-right members of his government who have been boycotting meetings following another cease-fire the week prior, claiming that Israel had not gone far enough in responding to missiles fired by Islamic Jihad.
Soon after the new strikes, the far-right Minister of National Security Itamar Ben-Gvir announced that his members of the government would no longer boycott meetings.
While there is a new cease-fire in place, many question how long it will last. Without a real Middle East peace plan, another conflict is all but assured.
One year later: On May 11, 2022, an Israeli soldier shot and killed veteran Al-Jazeera journalist Shireen Abu Akleh as she and others were reporting on an Israeli raid on the Jenin Refugee Camp in the north of the West Bank.
A year later, no one has been held accountable for her killing, with Israeli officials barely even acknowledging that they were the ones who killed her.
According to the Committee to Protect Journalists, this is not surprising as, in a new report by the group, Israel has a long history of inaction when it comes to their soldiers killing journalists.
Israeli soldiers are hardly, if ever, held accountable for wrongful deaths of journalists or Palestinians, and often received watered-down sentences if they are found guilty.
Released: Iran allowed two French nationals detained in Iran to return to France on humanitarian grounds after their health had drastically deteriorated due to a hunger strike.
Benjamin Brière, 38, had been held for three years while Bernard Phelan, 64, who was also holds Irish nationality in addition to the French, was arrested in October 2022.
Both were accused of spying, a charge that they have denied.
After their release, they returned to France, arriving Friday evening.
What we're reading
Going for a hike: Lebanon is full of beautiful places and breathtaking views of nature. NOW's Robert McKelvey spoke with the vice president of the Lebanese Mountain Trail Association, Joumana Brihi, for the 15-year anniversary of the organization and its work in promoting sustainable tourism and conservation. 
Lebanon+
Podcasts: Comedic duo Mohammad Dayekh and Hussein Kaouk are back at Sarde after dinner to speak with host Mouin Jaber and Médéa Azouri about their portrayal of harsh realities through drama and comedy, the modern audiences in Lebanon and the struggles they face with their work.
In the latest episode of The Beirut Banyan, Ronnie Chatah sat down with MP Najat Aoun Saliba who took a break from her sit-in at Parliament to speak about the need for international action on Lebanon, the political paralysis in Parliament, and her own political journey. 
Until next week, follow NOW Lebanon on Twitter, Instagram, Facebook, and LinkedIn, and subscribe to our weekly newsletter. And stay safe!