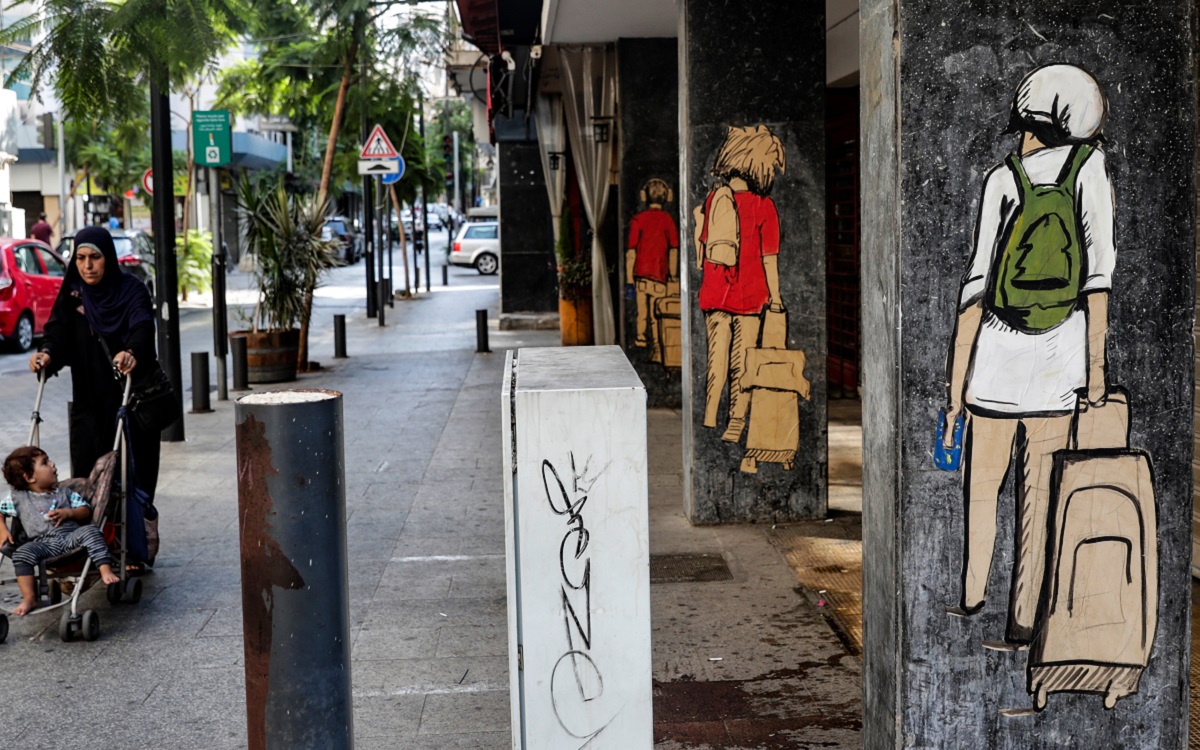 Faced with increasing daily hardships, many Lebanese choose to leave their country. Photo: Anwar Amro, AFP.
We've spent the weekend counting how many currency exchange rates the government operates with. 
Some said they were now 6, some said they were 7. Starting Saturday, another exchange rate was added: the fuel rate of 8,000 LPB/US$ negotiated by the government with the central bank in order to be able to continue importing fuel until the end of September. 
Lebanese fuel prices soared by up to 70 percent after the government agreed on another subsidy cut, heaping more pressure on people struggling to make ends meet. The government announced a gallon of gasoline would cost 130,000 LPB.
Some Lebanese spent the weekend on the streets. During the weekend and on Monday morning, demonstrators blocked roads and highways across the country, angered by the hikes and shortages. 
Hello. This is your weekly round-up from NOW, where we are trying to put the complicated Lebanese puzzle together, although it is sometimes painful to do so. 
New temporary plan: On Saturday evening, the presidency announced the approval of a "request for the Bank of Lebanon to open a temporary account to cover urgent and exceptional subsidies for fuel".
Up to $225 million would be set aside to subsidize imports of petrol, fuel oil, and cooking gas until the end of September, it said.
The decision was taken at a meeting attended by the president, the central bank chief and the caretaker prime minister, as well as the outgoing ministers of finance and energy.
Lebanon's currency, the Lebanese pound, remains officially pegged at 1,507 to the dollar but has lost more than 90 percent of its value on the real market.
The central bank previously provided fuel importers with dollars at an intermediate exchange rate of 3,900 LBP to the dollar, and fuel prices were fixed by the energy ministry based on this rate.
The Bank of Lebanon would now ensure the ministry could set prices based on an exchange rate of 8,000 LBP to the dollar, the presidency and the prime minister's office said, signaling a new increase in the price of petrol and fuel oil.
For info, now we have 7 exchange rates:

1$=1507,5 official
1$=3,900 Depositors
1$=8,000 Fuel
1$=12,000 Circular 158
1$=13,650 Unsubsidized medicine
1$= 16,500 SAYRAFA
1$= 19,500 Black market

There is also Cheques rate?‍♂️#الدولار #لبنان #لبنان_ليس_بخير

— LebaneseFinancials (@lebanesefinanc1) August 22, 2021
The toll continues to increase: Last weekend the explosion of a fuel tank in the north of the country killed at least 30 people. On Sunday, four victims died in quick succession, taking the toll to some say 31, others 35. In fact, the ministry of health said on Friday they were 31. But: 
Clarification: the @mophleb published a statement on Friday saying that 30 people in total had died. But there is no list of names or breakdown by nationality etc. that I'm aware of.https://t.co/cXcGp3GISG

— Sunniva Rose (@Sunniva_Rose) August 22, 2021
Contending non-solutions:  Hezbollah Secretary General Hassan Nasrallah promised in a speech on Sunday that yet another Iranian ship filled with fuel was on its way to Lebanon, with the one he announced on Thursday already on the way. 
As usual, nothing is really clear about the boats: who exactly paid for the fuel, how and where it is going to be unloaded and wether or not the Lebanese state is going to risk sanctions and unload the fuel. Again, details. 
Meanwhile, an Iranian news agency close to an IRGC general published on Thursday a news piece saying that a group of Shiite businessmen bought the fuel from Iran. Noone officially confirmed or denied anything.
However, after Nasrallah announced the first boat on Thursday, the Lebanese presidency immediately tweeted that the US Embassy to Lebanon had called saying there were efforts to set up a plan to import power from Jordan through Syria, using Egyptian gas. 
It's just that the talks were probably confidential and the tweet may have done more damage than good to that initiative, which was not at all a novelty. It had been floating around for quite some time. But, experts told NOW, although Jordan has always been onboard, Syria has refused. 
Middle East Institute's Jessica Obeid and Christophe Abi Nassif explain thoroughly why neither solution will permanently solve Lebanon's power sector woes. They may in fact feed into government inaction, complacency, and the erroneous assumption that foreign countries should and will save Lebanon, the two experts write.
The new school year: Fuel shortages and financial penury put many schools as well as parents in difficult positions. Some schools are on hold as they are caught between the lack of resources to buy fuel and the impossibility of charging increased tuitions from already struggling parents. Others have closed their doors indefinitely because they don't have fuel for generators. And parents are left to wonder how their children will even get to school in a country where virtually all transportation has been reduced to cars that run on gasoline. 
Water shortages: UNICEF warned on Saturday that over 4 million people in Lebanon are at risk of not getting any water due to fuel shortages. 
Withdrawing staff: Not having power to put the lights on, no fuel to ensure transportation and the constant risk of food poisoning is, for some governments, a matter of security. Therefore, the UK Embassy in Lebanon announced it was withdrawing staff and dependents.

Exploiting the needy: I wrote in one of our previous briefings that Lebanese politicians are champions of the politics of need. NOW's Dana Hourani took a deep dive into party politics and how sectarian factions manage to survive in these times of moral and economic crisis. 
Nothing new from Baabda palace: A new cabinet continues to be wishful thinking, as President Michel Aoun keeps insisting on the blocking third. No big news coming from that side of town. 
Except: In case you did not perform a facepalm a few months ago, when Lebanon's then Foreign Minister Charbel Wehbe showed the same type of piety towards the father of the nation and insulted a Saudi analyst on TV for not calling Aoun "his excellency", you have the chance to do that now. 
Al Jadeed reporter Layal Saad, accredited to the Lebanese Presidency, was kicked out from the press conference on Saturday night when President Michel Aoun announced that our lives would become more complicated with yet another exchange rate to operate with. The reason: she asked a guard if "Aoun was speaking" instead of "is his excellency the president of Lebanon Michel Aoun speaking". 
١/٢تعرضّت اليوم في قصر بعبدا الى اعتداء لفظي عنيف من قبل ليوتنانت شادي ابراهيم فقط لأنني سألت: عون بدو يحكي؟
ولم أقل "فخامة الرئيس بدو يحكي"
وانهال عليي بالصريخ والتهجم.
وتابع قائلا: ولا كلمة، يلا من هون يلا من القصر.

— Layal A. Saad | ليال ع. سعد (@layalsaad) August 21, 2021
Lebanon +: 
Another Al Jadeed reporter came under fire on social media last week after not exhibiting the right diligent face during Free Patriotic Movement leader Gebran Bassil's speech about rationing cards and failed national achievements. 
And now available as gif (of course…) pic.twitter.com/szHwTSALL6

— Mustapha Hamoui (@Beirutspring) August 20, 2021
In other news, former minister Youssef Fenianos' daughter got married last weekend. It's still wedding season. Although the guests and suppliers were instructed to avoid taking pictures and videos of the celebration, the anti-corruption activists from @thawramap, champions at hunting down and exposing Lebanese politicians' luxurious escapades, still found a way to get footage. The wedding triggered protests from families of Beirut blast victims, as Fenianos is among the 11 former dignitaries to be charged in the case.  
View this post on Instagram
In terms of podcasts, Ronnie Chatah talks politics and how the younger generations see militias and violence on The Beirut Banyan with L'Orient Today journalist Tala Ramadan.

Sarde After Dinner are still on vacation, while Beyond Politics host Luna Safwan announced she is leaving Lebanon at least temporarily. 
View this post on Instagram
DO NOT WORRY podcast host Anthony Sargon, still in quarantine after he tested positive for Delta variant, has been watching anime and is pondering leaving the country too.
The booster shot: NOW's Matt Kynaston wanted to write an optimistic piece about a new free skatepark, the first one of its kind in Beirut, opening in the capital's biggest park. He then bumped into Beirut's historical and chronic lack of public space. 
This week, I leave you in the company of Ronnie Chatah and his op-ed that raises once again the question of what Lebanon may have looked like. If only.