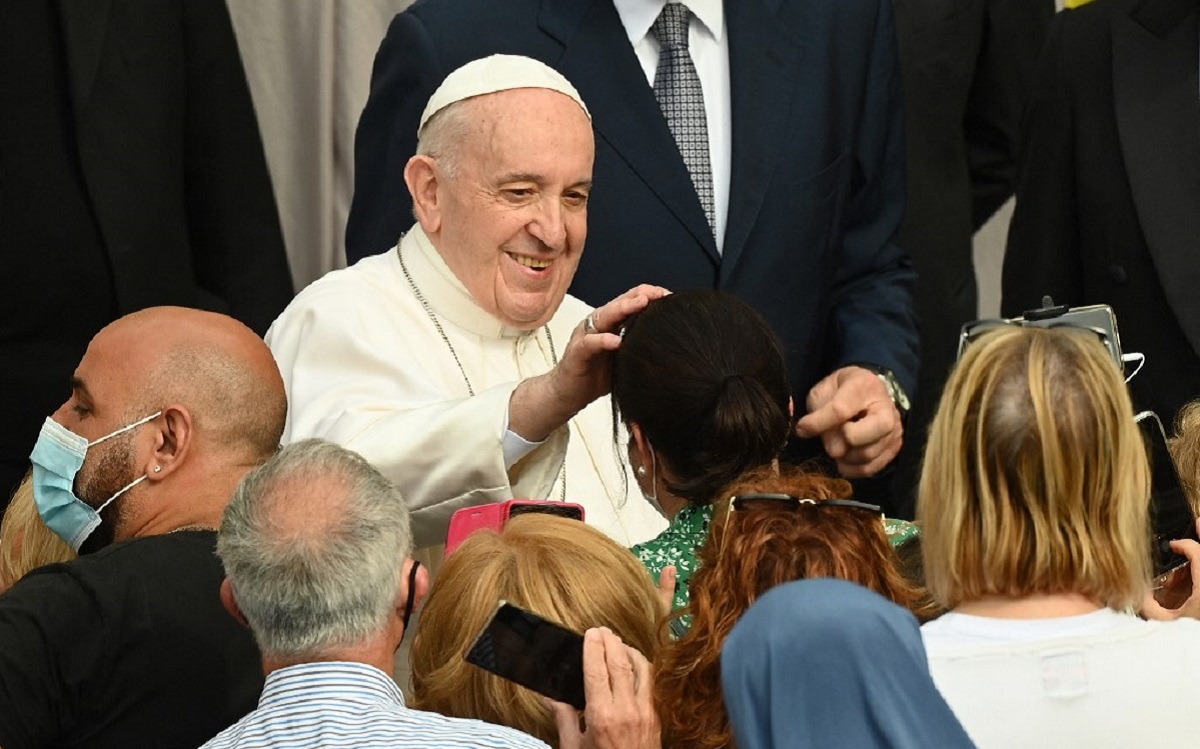 Pope Francis salutes faithfuls upon his arrival to lead a limited public audience at the San Damaso courtyard in The Vatican on June 2, 2021. Photo: Vincenzo Pinto, AFP.
"Forgive me, father, for I have sinned."
The Lebanese Christian leaders are to get their rosaries and pocket prayer notebooks ready, as they are set to journey to the Vatican on July 1, where Pope Francis is expecting them for a day of prayer for peace and stability. 
It may just be the last resort for them to come to terms with the idea that a government needs to be formed and the country's interest should come first.
Hello. This is your weekly round-up from NOW. It is not necessarily all you need to know, but it may just bring to your attention a few reads and listens that could help make sense of what has been happening around us in the past week.
Tell us something we don't know: Lebanon's severe economic and financial crisis is likely to rank as one of the worst the world has seen in more than 150 years, the World Bank said in a report released Tuesday.
The World Bank said on Monday that since late 2019, Lebanon has been facing compounded challenges – its largest peace-time economic and financial crisis, the spread of coronavirus, and a massive blast at Beirut's port last year that is considered as one of the largest non-nuclear explosions in history. 
In the face of these colossal challenges, continuous policy inaction and the absence of a fully functioning government threaten already dire socio-economic conditions and a fragile social peace with no clear turning point on the horizon, the World Bank report said.
"Apres moi, le deluge": As Lebanon's perennial Parliament Speaker Nabih Berri took over the self-appointed role of mediator between Prime-Minister designate Saad Hariri and Free Patriotic Movement Leader Gebran Bassil – President Michel Aoun's son in law – to help unlock the deadlock and sweeten the stalemate, the FPM leader remained absolutely unmoved and couldn't be convinced to compromise. 
The Trojan horse or the "two Christian ministers": It's simple, yet complicated. Since his re-appointment in September 2020, Hariri has been at loggerheads with President Aoun and Bassil over the FPM getting the blocking third. Berri revived a proposal with a 24-minister cabinet, no blocking third, and two extra portfolios for Christian ministers. 
But Hariri, who arrived in Beirut on Monday and rushed to meet with Berri, demands to know the political affiliation of these two extra ministers, for fear that they could serve as a cover for Aoun and Bassil's blocking third. 
It's hard to forget that, in 2011, Hariri's government collapsed because of the FPM blocking third, with Bassil announcing that the ministers left the government over the PM's policy to fund the Special Tribunal for Lebanon which was about to charge Hezbollah members with his father's murder. 
Berri recently succeeded in avoiding a political escalation between the Free Patriotic Movement and the Future Movement over a letter to the Parliament by President Aoun asking to revoke Hariri's mandate.
Berri's mediation initiative, backed by the US and France, is seen as "the last chance" to form a government. 
Follow the development on your LIVE BLOG: Lebanon if you're in a hurry and need fast updates. 
For more background on how things work when Lebanese sectarian factions negotiate forming a cabinet read Nic Frakes' Dossier piece on unlikely compromises.
In other (rather) good news (?): "It's definitely going to go back to more cuts because, first, we don't have enough supply of electricity added to the fact that we also have other occurred payments for the operators of the powerplants and some contracts are going to expire by the end of 2021," energy analyst Jessica Obeid told Nic Frakes. 
"There's going to be more de facto power rationing but I wouldn't buy into a total blackout for another year," she insisted. Find the story here.
They're here to stay: With Bashar al Assad winning another 7-year term in Syria, millions of refugees displaced by the 10-year war are bound to remain in their host countries as Damascus will continue to use them as bargaining chips to keep channels open with the West. Matt Kynaston spoke to various Syrians in Beirut who did not vote in May 26th presidential elections. 
The queer corner:  Dana Hourany talked to Diva and Narcissa, two of the trans women who performed in the drag queen shows of Madame Om, a venue that was completely destroyed in the August 4 explosion. 
With much of the LGBTQ+ community struggling as Lebanon's many crises deepen, they speak of how they had to band together to survive. 
Lebanon+: Our social media producer Tala Ramadan launched on Tuesday a new podcast miniseries – The Written Word – under the label of The Beirut Banyan. 
In his new program, "Al Badeel," the political, social, and environmental activist Mark Daou hosted Samer Salama, Alia Abbas, Mireille Al-Qarab Abi Nasr, Gil Samaha, who presented alternative proposals and ideas to the Lebanese Ministry of Economy and Trade in light of the economic collapse, high prices, and the monopoly of traders and smugglers on subsidized goods.

During their Sarde Show, Journalist Medea Azouri and Mouin Jaber spoke with Ex-Syrian Detainee, Omar Alshogre, who is also the current the Director for Detainee Affairs at the Syrian Emergency Task Force. Alsoghre is one of the few survivors of the infamous Sednaya Military Prison, dubbed "The Human Slaughterhouse".

May Khreich, FPM deputy chairman for political affairs, posted on Friday evening a "comic" sketch by Layal Daou and Claude Khalil entitled "Silence the horn of the corrupt," which mocked journalists Riad Kobeissi and Hadi Al-Amin and their program "Yaskot Hokm El Fased,"  for constantly tackling FPM leader Gebran Bassil and former minister Nada Boustani.

In their latest episode, the two journalists proved the involvement of Bassil, Bustani, and others in the case of fraudulent commissions with audio recordings and documents. Kobeissi also aired the Aounist sketch, sarcastically observing "a minute of silence for the death of comedy."

Lawyer Majed Boueiz, Bassil and Boustani's legal representative, issued a statement denouncing the episode's content as "fake facts" into which the reporters are trying to insert the names of his clients falsely. 

Until next week, stay safe, wear a mask, and follow us on Instagram, Facebook, Twitter and Youtube.