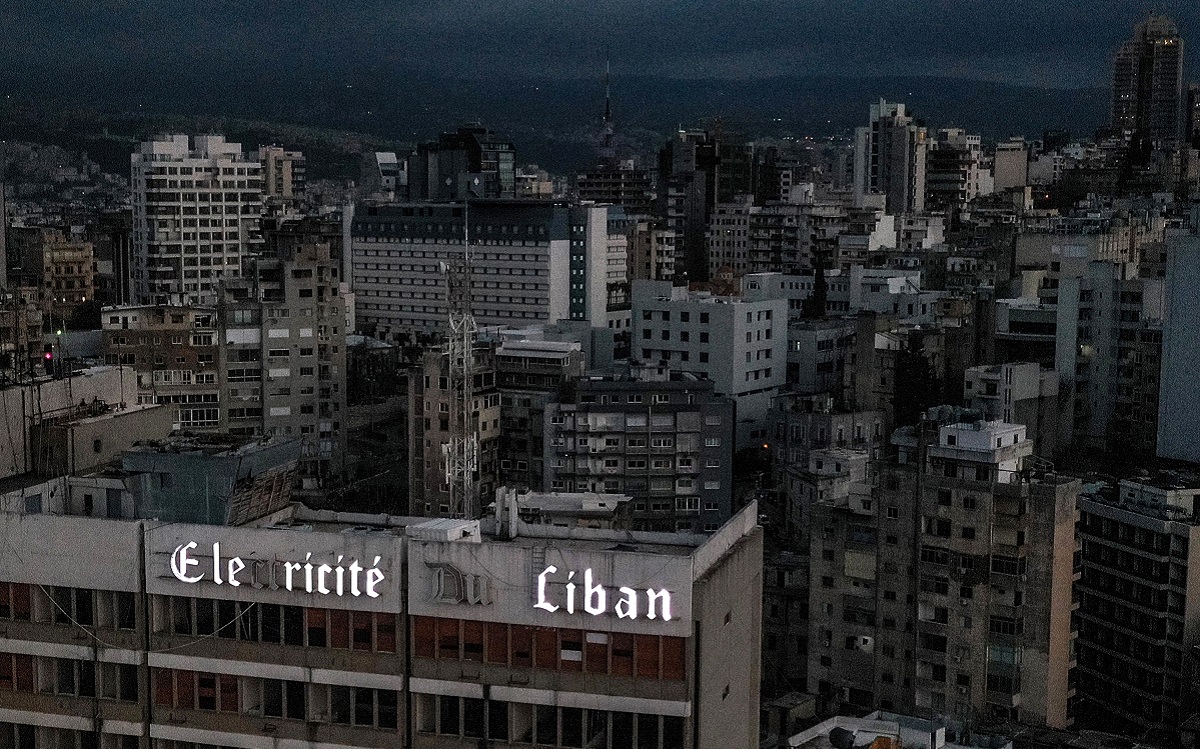 Beirut in darkness during power outage. Photo: Dylan Collins, AFP
Penury is more than poverty or scarcity. Penury implies needing a resource that is scarce or inaccessible. 
Like the case of fuel in Lebanon. Fuel is not actually scarce, tankers still stop in the eastern Mediterranean Sea and wait to unload and feed the powerplants. Fuel is needed, desperately wanted, but unavailable because … well, because we don't have money. 
Goods may be available, but, somehow, for some reason, they are not accessible. 
The politics of need keeps patron-client systems alive. A few kilos of rice and some sunflower oil smoothly bring votes in remote poor villages. One poorly paved road can take one corrupt politician to the mayor's office in one round. 
Hello. This is our weekly round-up from NOW. It comes a little bit later this week because we wanted to write in the new billionaire prime minister-designate. This guy has definitely wanted for nothing. 
Lebanese politicians and factions are champions of the politics of need. The political class generates need by making resources scarce  through lack of policies, nepotism and incompetence, and then responds to the need by occasionally offering the desired item in exchange for votes and political support. It's a recipe that has worked for millennia. But sectarianism, by reinforcing the fake brotherhood based on religion, makes it much more difficult to break the patron-client ties, even when we hit rock bottom.  Or, maybe, especially when we hit rock bottom. 
Fuel for votes: We had vaccines for votes. 
But as the collapse continues and state resources are depleted, political actors have nothing to tap into. Therefore, they activate other patron-client networks, in the private sector.
As electricity rationing increases, and parliamentary elections draw nearer, a new version of "electoral asphalt" has been developed – one that includes diesel, gasoline and other basic commodities distributed by establishment parties to their members and in their areas of influence, Instagram-based outlet Megaphone reports. Political factions of all sects have been providing diesel fuel for generators and gas for loyal party members. The deals continue. 
View this post on Instagram
Back to Hogwarts: Some may have rejoiced, especially at the news that the currency exchange has lowered the dollar a little bit, as the white smoke emerged on Monday from the Parliament chimney and Tripoli billionaire Najib Mikati was tasked to form a cabinet. He is the third PM in one year, after Hassan Diab and Saad Hariri both resigned. 
"I don't have a magic wand and, alone, I can't make miracles happen," he said.

Well, metaphors will surely not absolve him from figuring out a way. Or the highway. 
Donors and mechanisms: Since the Lebanese Parliament insists on recycling the same old politicians with billions in world banks instead of tapping into the civil society to come up with competent technocrats, maybe the international institutions and donors who are set to meet on August 4, hosted by France, will figure out that they need to impose serious control and reporting mechanisms to ensure that the aid goes where it's supposed to. Lebanon's track record shows that international aid money has a tendency to get lost for years and years, with no investigations into the matter. In fact, with hardly anyone talking about it at all.
Not giving up: A big number of Lebanese university graduates are choosing to leave the country seeking scholarships and jobs abroad that offer salaries in meaningful currencies, and opportunities to grow. But there are some young people who have decided to stay in their country. Many of them are boosting a vibrant NGO environment, others are opening small businesses. It's their form of resistance, they say. NOW's Dana Hourany tried to find out what motivates them.
Fishing in stormy seas: Raw materials, fishing gear, maintenance costs and everything else a small-scale fisherman needs are continuously experiencing price hikes. For a service-oriented economy that relies heavily on imported goods, these items have to be sold in U.S. dollars or its equivalent at the black market rate, giving rise to unserviceable boats that end up in junkyards. Sally Abou el Joud has the story. 
Innocence lost: How do war and constant conflict, assassinations and crises shape a young mind? "If you were born between 1988 and 1992 in Lebanon, it means that your teenage years were full of assassinations and school days that were cut short, national grief days announced unexpectedly, and long lists of people who were slowly disappearing from the political scene and TV screens," Luna Safwan writes in her op-ed this week, going down a bloody memory lane, browsing through her teen journals telling a tale of high-school crushes and bombings. 
On a regional level: Because of Iran's crisis, the regional power has severely limited the amount of funds that it is able to send to its militia network throughout the region, forcing the groups to find secondary means to generate income, author Arash Azizi and analyst Yara Asmar told NOW's Nicholas Frakes. 
The booster shot (yes, we have one!): Lebanon's beautiful trap shooter Ray Bassil says she is off to the Tokyo Olympics on a mission to win a medal and spread a little joy among Lebanese struggling amid an economic crisis.
Lebanon+: It's definitely the wedding season in Lebanon. Even for Hezbollah officials. 
The talk of the town has been not of Najib Mikati's unsurprising appointment, but of the antics of former Hezbollah MP Nawar al-Sahili, the Party of God's man in charge of the displaced and refugees. 
The whole story goes back to last weekend, when his daughter got married. Obviously, in these trying times, she was still decked in a designer dress and had a fairytale wedding. Every girl's dream. But in a country where half of the population faces poverty, and where 10 percent of the people have to send their children to work to put food on the table, one girl's happiness raises plenty of outrage. 
Al-Sahili announced on Monday that he suspended his activities from the party as the leadership is set to make a decision on his fate. 
#Hezbollah is proving yet again how aloof it is to the suffering of Lebanese people. This video of the lavish wedding of their MP Nawar Sahili's daughter, going viral in #Lebanon. No empathy whatsoever pic.twitter.com/yrvRtOgnkB

— Mohanad Hage Ali (@MohanadHageAli) July 25, 2021
Al-Sahili said he "had not thought of the harm [the wedding] would cause to our dear public." Indeed, who would have thought one politician could be so disconnected from his own constituency. 
"Al-Sahili's apology comes as resentment grows among Hezbollah's public about the extravagant lifestyle of some of its officials, while the party has consistently defended the system of impoverishment since October 17 and exhorted people to exhibit "patience and discernment," Megaphone wrote. 
View this post on Instagram
Gino Raidy found another instance to highlight double standards in the wedding videos. The bride, daughter of a Hezbollah official and former MP, loudly offers some tequila to a guest.  Hezbollah members are known to crack down on alcohol shops in South Lebanon because they violate the moral standards of the Shiite Islamist faction.
Meanwhile, in full outdoor party season, the number of Covid-19 cases is growing, amid a healthcare crisis that has seen hundreds of Lebanese doctors and nurses leaving the country and hospitals struggling to keep doors open, struggling with lack of medicine and electricity.
Until next week, keep safe, wear your mask, and party at home.