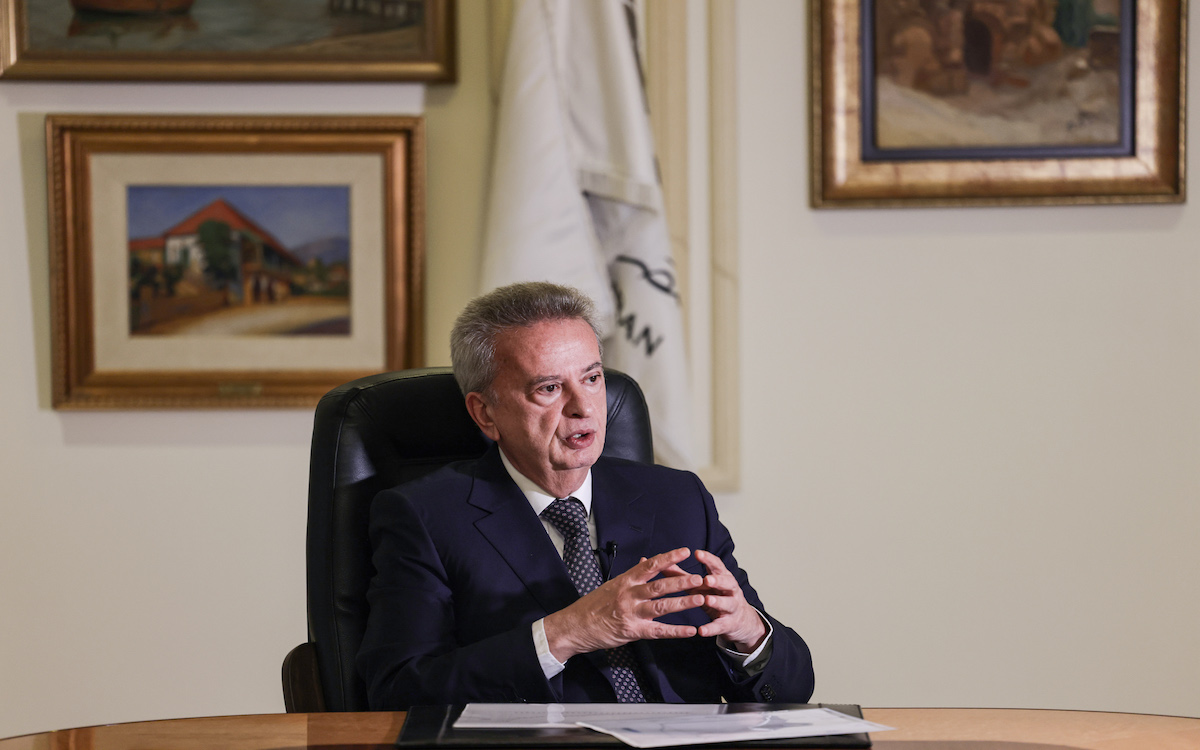 Lebanon's Central Bank Governor Riad Salameh gives an interview with AFP at his office in the capital Beirut on December 20, 2021. Photo: Joseph Eid, AFP
When it comes to popular culture, Brazil, or somewhere with few extradition treaties, is often the stereotypical country that criminals running away from the authorities flee to.
In reality, though, this is increasingly becoming Lebanon – if you are Lebanese at least.
While Lebanon has extradition treaties with a multitude of countries around the globe, Lebanese authorities are hardly willing to comply with international arrest warrants issued for its citizens.
One of the most famous recent cases is that of the disgraced former CEO of Nissan and Renault Carlos Ghosn who, after facing charges in Japan for underreporting his salary and misuse of company assets, was smuggled out of the country in an instrument case back to Lebanon, where he continues to enjoy a free life despite having an international arrest warrant issued in his name.
Now, Lebanon's Central Bank (BDL) Governor Riad Salameh has become the most recent name in the list of outlaws.
Salameh has been the subject of multiple criminal investigations in Lebanon, France, Germany, Luxembourg and Switzerland.
He has been quick to maintain his innocence and bash the investigations as being politically motivated but has been incredibly slow, if not outright refusing, to cooperate with any of the investigations.
Last week, Salameh was summoned to appear before a French court as part of the ongoing investigation into his alleged financial misdeeds. However, he refused to show up and remained in Lebanon, which led French authorities to issue an arrest warrant for the BDL head.
Things escalated even further when Interpol issued a "red notice" for Salameh.
Since the international arrest warrant was issued, many in the Lebanese establishment have called for Salameh to resign from his position at BDL, including caretaker Prime Minister Najib Mikati, Parliamentary Speaker Nabih Berri, caretaker Interior Minister Bassam Mawlawi, and caretaker Deputy Prime Minister and lead negotiator with the International Monetary Fund Saade Chami.
Salameh has so far refused to resign, although he previously stated that he would not be seeking to renew his role as the head of BDL which comes to an end in July.
In Lebanon
Mikati in Jeddah: Caretaker Prime Minister Najib Mikati attended the latest Arab League summit in Saudi Arabia last week, in which he continued the trend of blaming refugees for the economic crisis and calling for their return.
Mikati called on the international community to help Lebanon and Syria to repatriate the refugees residing in Lebanon back to Syria, despite the risks that it could pose to their lives.
The Arab League also called on Lebanon to quickly elect a new president, something that is unlikely to happen unless an international power helps broker a deal, as the Lebanese political establishment has increasingly become incapable of accomplishing anything.
Friends again: After a little over a year-and-a-half, Bahrain has said that it is reestablishing diplomatic relations with Lebanon.
Bahrain, along with Saudi Arabia, Kuwait, Yemen and the United Arab Emirates, broke off diplomatic relations with Lebanon in October 2021 following the resurfacing of old comments by then-Telecommunications Minister George Kordahi, where he criticized Saudi Arabia's role in the war in Yemen and defended the Houthi's right to fight back.
However, many viewed this as an excuse to put pressure on Lebanese politicians to curb Hezbollah's growing power in the country, something that ultimately had the opposite effect.
Currently, only the UAE is yet to restore ties with Lebanon.
Beachwear: With summer starting to show its face in Lebanon, people are starting to flock to the beaches to soak up the rays and cool off in the ocean.
What beachgoers, more specifically women, should be allowed to wear has come into the public spotlight in the southern city of Sidon, where there has been a debate over whether or not women should be allowed to wear bikinis on the public beach.
Opposing opinions over the matter have led to protests and counter-protests. The  Sidon Municipality also erected a banner "reminding" people to adhere to modest dress.
Exercise: Hezbollah staged a rare public military exercise in South Lebanon on May 21, where the party showed off some of its military capabilities to a group of foreign and local journalists.
Hezbollah has a long history of remaining purposefully vague concerning its true military capabilities and does not normally hold such public exercises, but has consistently churned out carefully crafted propaganda videos over the years. 
By inviting the press to the event, it appears the Iran-backed group was looking for wider media coverage. 
The exercise came just days before Liberation Day on May 25, which marks the anniversary of the Israeli withdrawal from South Lebanon in 2000.
A new deal: France continues to try and bring an end to Lebanon's ongoing political crisis by attempting to broker a deal to elect a new president.
This latest reported proposal by France would still see Hezbollah and the Amal Movement's candidate, Sleiman Frangieh, ascend to the presidency.  In order to garner more Christian support, however, France is trying to sweeten the deal for Free Patriotic Movement head Gebran Bassil by appointing him to choose the next head of BDL in exchange for his backing of Frangieh.
It is not clear if Bassil will agree to the deal.
Lebanon has been without a president for 202 days.
In the region
Assad returns: After over a decade of being on the outs, Syrian President Bashar al-Assad returned to the Arab League last week in an official capacity following Syria's reinstatement to the body.
While the Arab League has limited power as a governing body, this remains a major victory for Assad and his attempts to legitimize his rule on the international stage.
Syria is yet to restart diplomatic relations with every country in the region, with Qatar remaining a vocal opponent. Despite Qatar's opposition to Syria rejoining the Arab League, it also did not block it, essentially giving its implicit approval.
Syrians opposed to Assad's rule expressed dismay and anger at the Syrian leader's attendance at the summit, condemning the international community for its failure to hold Assad accountable for the crimes committed by his forces during the civil war and the seeming erasure of their suffering.
A march and a reminder: Thousands of Israelis marched through the streets of Jerusalem on Thursday to commemorate their country's taking of the city during the 1967 war.
While Israelis celebrated the anniversary, for Palestinians, it served as yet another solemn reminder of the occupation, and the daily struggles that they have to endure.
During the march, Palestinians in the Old City were forced to shutter their doors and close their shops over fears that they would be targeted by some of the participants.
Despite Israeli authorities saying that the march was peaceful, several journalists were injured when marchers threw bottles and sticks at them in full view of the police. There were also countless videos showing marchers chanting "death to Arabs" and calling for the expulsion of any non-Jews from the country.
While the Israelis were able to march unimpeded, Palestinian protesters on the Gaza-Israel border were subjected to tear gas fired by the Israeli military, with at least two Palestinians being injured in the process.
More executions: Iran executed three men who had participated in the nationwide protests following the death of Jina "Mahsa" Amini while in the custody of the country's morality police.
Majid Kazemi, Saeed Yaqoubi, and Saleh Mirhashemi were all hung on Friday after they were convicted of killing two members of the basij, the Iranian Revolutionary Guard Corps volunteer force, and a police officer.
Human rights groups were quick to point out that their trials lacked any fairness and that their confessions were derived from torture.
So far seven people have been executed in connection to the protests with many viewing these executions as a way of deterring further demonstrations.
Failed killing: The US is starting to walk back claims that it killed a senior al-Qaeda leader in Syria in March after the dead man's friends and families disputed his alleged connections to the group.
In an investigation, The Washington Post spoke with people who knew the man killed, Lotfi Hassan Misto, with all of them saying that he was just a poor, kind-hearted working man who had no affiliations with any militant or extremist group.
US officials speaking anonymously told The Post that they were no longer confident that they killed a senior al-Qaeda member.
Misto's death harkens back to the US invasion of Afghanistan and occupation of Iraq, where countless innocent people were killed in drone strikes because they misidentified the person they were targeting.
The final countdown: It is the last week before Turks go to the polls once more to cast their votes for either sitting President Recep Tayyip Erdogan or his opponent Kemal Kilicdaroglu to lead the country for the next five years.
Even though no votes have been counted yet, many are predicting an easy Erdogan win as he nearly won in the first round of voting, narrowly falling short of the threshold for an outright victory.
This has not stopped Kilicdaroglu from continuing to push for a surprise upset with the presidential hopeful starting to lean hard into nationalistic rhetoric to try and sway some voters onto his side, mostly by targeting Syrian refugees in the country with hate-filled rhetoric.
Turkey goes to the polls on May 28.
What we're reading
Farmville: Lebanon for decades has boasted a large agricultural industry. But, with the economic crisis, this has made the lives of farmers much more challenging. Rodayna Raydan wrote for NOW about a new approach to farming that could pose as a lifeline for those working in the agriculture industry.
Lebanon+
Podcasts: Everyone loves a little danger. This week, Sarde after dinner sits down with the founders of Khateera, Amanda Abou Abdallah and Maria Elayan, to discuss the differences between Arab and Western feminism, internalized misogyny amongst Arab women and the issues facing Arab women today.
In the latest episode of The Beirut Banyan, Ronnie Chatah spoke with journalist and urban planner Mohamad el-Chamaa about a forgotten crusader castle, European Jewish refugees coming to Lebanon in the 1930s, and the story of David Saad in Lebanon's sporting history.
Until next week, follow NOW Lebanon on Twitter, Instagram, Facebook, and LinkedIn, and subscribe to our weekly newsletter. And stay safe!