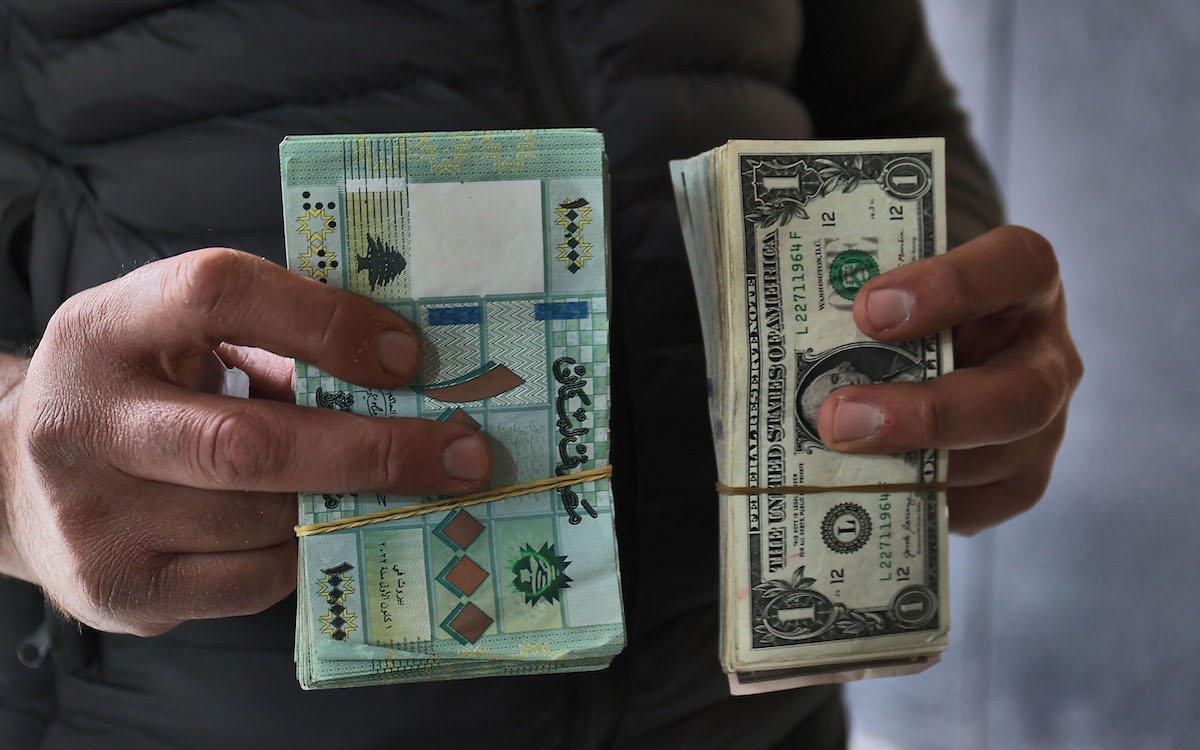 A black-market currency dealer holds US dollars (R) and Lebanese pounds bills in Beirut on March 14, 2023. Photo: Anwar Amro, AFP
It finally happened.
The lira hit 100,000 to $1 on March 14, marking a grim milestone in the ever-worsening economic crisis now in its fourth year.
For some reason, it felt like this was it; this was as low as the lira would go. It could not possibly get worse than this.
But within hours, that feeling was proven wrong as the lira continues to devalue at a rapid pace. Currently, as of writing, it has surpassed 120,000 and is showing no signs of slowing down.
2023 has seen the quickest devaluation of the lira in the entirety of the economic crisis.
In 2022, it took nearly the entire year for the rate of the lira to double. Right now, the lira has practically tripled in just three months.
And this is just looking at the situation in terms of numbers. When you look at things from a social perspective, it gets even worse.
Salaries are becoming increasingly worthless as prices are rising. An increasing number of institutions in Lebanon are pricing in dollars, rather than having to change them every day.
Now, during a trip to a supermarket, it is not uncommon to see a large digital sign identifying the rate goods are currently being priced, a sort of reminder that many of the things that people used to be able to afford are long out of reach.
The solution to this problem is, in a way, simple and has been repeated countless times since the start of the crisis. Parliament needs to implement reforms so that billions of dollars in aid can be unlocked. 
The importance of these reforms is not just about the aid, however. The reforms are also needed in order to fix the country's economic and financial institutions so that something similar, hopefully, does not happen again.
But these reforms are a long way off. The politicians have not even passed the most basic of measures, such as a capital control law. Instead, they are just sitting around and biding their time in the hopes that someone else will come along and solve their problems for them.
In the meantime, people are suffering under the weight of the economic crisis.
Ramadan and Easter will soon be upon us and, while they used to be large celebrations amongst families and communities, they have become increasingly muted over the length of the crisis, with celebrations this year likely to be the quietest yet.
In Lebanon
Questions: Lebanon's Central Bank governor, Riad Salameh, attended two days of questioning by Lebanese and European investigators on March 16 and 17, marking the first time that the BDL governor has attended such sessions.
Salameh has been charged with a slew of financial-related crimes, such as corruption, money laundering, embezzlement and illicit enrichment, in Lebanon and is under investigation in several European countries.
During the eight total hours of questioning, Salameh was asked about an apartment in Paris that is jointly rented by BDL and Forry Associates Ltd, a brokerage firm owned by Salameh's brother Raja, with other questions primarily focusing on BDL, its assets and other investments outside of Lebanon.
Salameh has denied any wrongdoing and has repeatedly denounced the investigations.
Trouble on the border: On March 14, Israeli officials said that they had killed a man in the north of the country who they say had most likely entered Israel through Lebanon's southern border.
Israeli officials gave few details on the individual, who they said was killed because he was holding a gun and wearing an explosives vest, but said that they were working to ascertain whether or not they are from Hezbollah.
The man who was killed had planted a bomb in northern Israel that, after being detonated, seriously wounded an Israeli civilian. The bombing was claimed by a relatively new group called the Galilee Forces – The Lone Wolves.
Even if Hezbollah had nothing to do with the operation, if it is true that the bomber crossed the Lebanese border to enter Israel, then Hezbollah likely knew and allowed them to cross given the tight security that the Iran-backed group maintains along the border.
Hezbollah founding member dies: Hezbollah announced on March 16 that Hussein al-Shami, one of the groups founding members, died after a long battle with a terminal illness.
Al-Shami helped to establish Hezbollah's social institutions that have helped the group to maintain the support of its constituents. 
He also helped to establish al-Qard al-Hassan, a financial institution providing low-interest loans that is arguably illegal under Lebanese law and has been sanctioned by the United States.
The debate continues: Lebanon has been without a president for 140 days, and it does not seem like the country is getting any closer to deciding on a candidate to elect.
The US has said that the president just needs to not be corrupt, a notion that makes the Lebanese people chuckle, and work to implement the reforms needed to unlock billions of dollars in international aid and loans.
France has gone a step further in presenting a possible governmental structure that would see Hezbollah and Amal Movement-backed Sleiman Frangieh as the president, Nawaf Salam as the prime minister, and Samir Assaf as BDL's head. 
It is not clear if this structure would be acceptable to all of the parties involved in the back-and-forth negotiations over the presidential elections.
A kidnapping comes to an end: On March 16, Frial Naime left her home in Broumana to go to her work at one of the local schools. She never arrived.
Instead, she was kidnapped and brought to the Ouzai neighborhood in Beirut's southern suburbs where she had her money stolen and was locked in the trunk.
In the days since Naime was found, Lebanese security forces apprehended four individuals from a local gang who took part in the kidnapping as they planned to escape to Syria.
Mikati in the Vatican: Caretaker Prime Minister visited the Vatican on Thursday where he was received by Pope Francis.
During a meeting with the Vatican's secretary of state, Cardinal Pietro Parolin, and secretary of relations with states, Paul Richard Gallagher, the discussion turned to Lebanon.
Mikati stressed the importance of the Vatican's support, and Cardinal Parolin said that the Vatican was ready to help Lebanon.
In the region
20 years later: It has been 20 years since the first American bombs were dropped on Iraq as part of a large-scale US invasion. Since then, countless lives have been lost and tens of millions of lives affected.
In the US, the invasion has been mostly forgotten and has become more of an anecdote of why the US should not take part in foreign wars, especially in the Middle East.
But in Iraq, the story is much different. The Iraqi population live with the scars and trauma every day, and have been forced to deal with the consequences of a false narrative that was pushed to justify the illegal invasion of a country.
Those exposed to the effects of burn pits are finally receiving care in the US, but, in Iraq, they are mostly forgotten and have nowhere to go and no one to complain to about the adverse health effects that they are dealing with.
Children were forced to deal with the devastation of war and spoke years later about the loss that inevitably came with it.
It is clear that the US invasion of Iraq was a mistake – one that the US has never owned up to. Instead, they left Iraqis to deal with the damage that they caused.
Iraqis may in a sense be freer now than they were under the brutal dictatorship of Saddam Hussein, but they are dealing with a new monster in the form of sectarian conflict and massive governmental corruption that has made their lives hard, to say the least.
What the next 20 years hold for Iraq is not clear, but one can only hope that they are better than the last 20.
Warning: During a call between US President Joe Biden and Israeli Prime Minister Benjamin Netanyahu, Biden gave the Israeli leader a stern message that maintaining "genuine check and balance" is a pillar of the US-Israeli relationship.
This call comes as the extreme-right Israeli government is pushing legislation that would cripple the country's judiciary by allowing the Knesset, Israel's legislative body, to override Supreme Court rulings with a simple majority.
In response, Israelis from a wide range of backgrounds have continuously protested against the proposed legislation as they believe it would bring about an end to Israeli democracy.
This also comes at a time of heightened tensions between Israelis and Palestinians, with over 80 Palestinians being killed so far this year. Palestinian and Israeli officials have been meeting in Egypt to try and find a way to decrease the tensions and violence, especially with the coming Ramadan, Passover, and Easter holidays.
Celebration and protest: During the fire festival, called Chahershanbe Suri in Farsi, which has Zoroastrian roots, some celebrators used the occasion to once again start protests against the Iranian government.
The Iranian government has opposed such celebrations for years due to their pre-Islamic roots, and since they allow attendees to publicly speak against the government in an organized setting.
These are some of the first protests following a lull in the nationwide demonstrations after a brutal crackdown by the Iranian government against the protesters.
The protests initially started in September 2022 following the death of Zhina "Mahsa" Amini while she was in the custody of the country's morality police. Initially, the protests called for the end to Iran's mandatory hijab law and the end to the morality police but they quickly expanded into full-on calls for the end of the Islamic Republic.
Assad in the UAE: Syrian President Bashar al-Assad visited the UAE on March 19 as part of his country's thawing relations regionally.
Assad and his government were once the pariahs of the region, with nearly every country in the Middle East pushing them into isolation. 
But 12 years after the uprising, it has become clear that the dictator is here to stay, with Syria finally starting to come out of the cold and restart relations with other countries in the region.
This visit came the day after Syrians in opposition-held territories celebrated 12 years since the start of the uprising and their continued demands to see Assad removed from power.
What we're reading
Coming home: Photojournalist Salwan Georges left Iraq over 20 years ago. Now, he has returned to a country that he only had a distant memory of. In the Washington Post, he shares his photos and experiences during his brief return to his country.
Nowhere to go: In most countries, when a violent mob attacks you and your community, you would go to the proper authorities so that the perpetrators can be dealt with. However, as the Washington Post's Loveday Morris found, for Palestinians, they do not have anywhere to turn to when violent settlers rampage through their streets.
Lebanon+
Podcasts: If you are a fan of in-depth conversations on complicated topics, then the most recent episode of the Beirut Banyan is for you. Host Ronnie Chatah spoke once more with journalist and podcaster Jad Ghosn about his failed run in the May 15, 2022 parliamentary elections, podcasting and in-depth political discussions, and how their lives and views have changed since the end of the civil war.
Until next week, follow NOW Lebanon on Twitter, Instagram, Facebook, and LinkedIn, and subscribe to our weekly newsletter. And Happy Ramadan to all of those taking part!