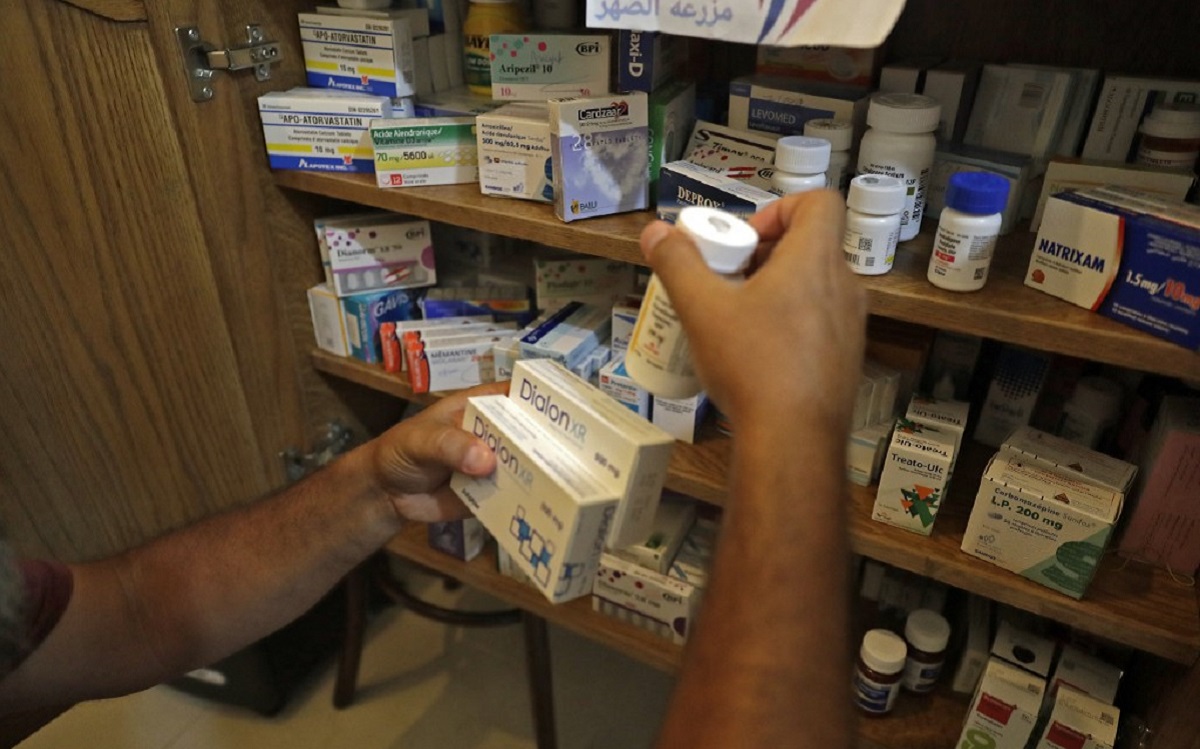 A Lebanese volunteer of the "We Are By Your Side" initiative handles boxes of Metformin diabetes medications in the village of Mazraat el-Dahr in Mount Lebanon province, south of the capital, on July 12, 2021, where medications are obtained from nationals arriving from abroad and stored to be distributed to those who need them free of charge. Photo: Joseph Eid, AFP.
Corruption is an abstract term. It is normally defined as the abuse of entrusted power for private gain.
But corruption is not just about stealing, bribing, nepotism, and influence peddling.
Corruption also kills. 
Corruption doesn't stab you in the back, doesn't shoot you, doesn't suffocate you directly. But it is at the core of many disasters.
Incompetent politicians don't read, overlook or ignore important reports signaling the dangers of holding 2,750 tons of explosive fertilizer in a disaffected warehouse in the middle of the city. It kills over 200 people and flattens half the country's capital. That's not fate, that is corruption. 
For decades a small number of people have siphoned funds from the state and depleted the country's reserves. The money that Lebanon is missing now did not vanish into thin air, it vanished into someone's account. The foreign reserves needed to subsidize medicine and rebuild electricity plants and keep hospitals functioning so that children don't die is missing because of corruption, not because of the economic crisis. 
Corruption kills. It kills the most vulnerable. Our children. Our parents. It starves families. 
Hello. This is your weekly round-up from NOW. It's not all you need to know, but it may provide enough insight into a few matters that may help make more sense of what it means to be on a highway to hell. 
Victims of corruption:  Jouri al-Sayyid, a 10-month-old girl, died on Saturday in the village of Mazboud, southeast of Beirut, three days into a high fever that caused lung inflammation. 
"Drugs weren't available at the hospital, so her father went to the pharmacy to buy some, but it was closed," the girl's uncle, Aymen al-Sayyid, told AFP. 
Mazboud hospital, where the girl died, denied any wrongdoing.
It said in a statement that Jouri had received "full, appropriate treatment including all necessary medicines", and she had died shortly after being removed from the hospital to be treated elsewhere.
Pharmacies were on strike: Many of Lebanon's pharmacies closed their doors on Friday in a protest strike over the lack of medicines caused by the country's economic crisis.
Pharmacies were also empty: Lebanese have relied on relatives or friends of friends coming from abroad to get their fever-reducing medicines. Lebanese expats have turned into couriers. 
(Yet another) Investigation: Health Minister Hamad Hassan vowed in a statement to open an investigation into the circumstances of the baby's death. 
A widely-shared video showed the father carrying the girl in his arms, wrapped in a sheet, and taking to task Lebanon's political class, blamed for its economic collapse and exodus of capital.
"Who should I complain to? The crocodiles and sharks that left the country?" he angrily asks in the video.
No medicine: An association of importers of medicines has warned for weeks that the country could soon exhaust its stocks of hundreds of basic medicines for chronic diseases.
Lebanon's cash-strapped authorities have gradually cut subsidies on basic goods including medicines, but delays in the tendering process for drug imports has caused shortages of many products including basic painkillers and baby formula.
Asking for help: On June 26, Caretaker Prime Minister Hassan Diab gathered ambassadors to plead for a release of aid to Lebanon. Diab argued that making aid conditional on reforms threatened Lebanon's survival. Ambassadors, especially the French Ambassador Anne Grillo, said "no". 
"But what is frightening, Mr Prime Minister, is that today this brutal collapse … is the deliberate result of mismanagement and inaction for years," she said.
"It is not the result of an external siege. It is the result of your own responsibilities, all of you, for years, of the political class. This is the reality."
More shuttle diplomacy: The French and US envoys to Lebanon went to Saudi Arabia last Thursday in order to discuss a solution for Lebanon. The unusual shuttle diplomacy comes after US State Secretary Anthony Blinken sat in Italy at the end of June with his French and Saudi counterparts and decided to act together. 
However, according to a press release sent to NOW, both US and French ambassadors renewed their stance: no money without a "proper" cabinet and "proper" reforms. Read "proper" as "technocratic". 
Do not get used to it: Falling on their feet and making ends meet despite it all has been a national Lebanese sport for a long time, but it is time that stops, psychologists told NOW's Dana Hourany. 
"It's like you have to be resilient by force. They drill this concept deep inside your brain," trauma psychologist Cosette Maalouf explained. "These things have a lot of political motives behind them, they inflate your ego with this idea of resilience. Even in the laws of physics, a resilient object can be deformed if enough pressure is applied to it." 
Still demanding justice in the street: As MPs mull lifting immunity for some politicians and former dignitaries, as well as security officials so that they can be investigated for negligence and murder in the Beirut Blast probe, families of those who died in the August 4 explosion are still met with security forces and little support. Nicholas Frakes has the story. Matt Kynaston and Dana Hourany went to the protest in front of Parliament speaker Nabih Berri's residence in Ain Al Tineh last Friday and spoke to the victims' families. 
Not fate, but will: For a nation under immense pressure to accept the status quo as fate, marking anniversaries of murders and corruption-triggered disasters every month and every year, pride and protest are all that is left besides a yearning, desperation, for closure and reclaiming history, Ronnie Chatah, host of The Beirut Banyan podcast, writes for NOW.
Not martyrdom, but due process: Responding to a comparison made by a reporter between Beirut blast probe chief investigator Tarek al Bitar and an assassinated and beatified Sicilian magistrate Rosario Livatino, Luna Safwan explains that magistrates risking their lives to probe a crime is not a normal state of affairs. 
Rhetoric is no longer enough: Looking at the achievements Hezbollah's leader praises versus the consequences of Hezbollah's actions, we can easily tell he was the biggest Arab servant of the Zionist-Iranian agenda at the expense of all countries, regardless if this was the intention or the failure of another plan, Mariam Kesserwan, Lebanese civic activist and founder of the @LebanonUprising page on Instagram, wrote for NOW. 
The Lebanese who stayed: "I came back to Lebanon five years ago with hope, only to witness rampant corruption, pollution, decaying infrastructure and a people so depressed that it seemed they couldn't care if they lived or died," communications specialist and civil society activist Rebecca Bou Chebel wrote for NOW. The Lebanese need time to organize and mobilize to reconstruct, she argues, because "Rome wasn't built in a day". 
Lebanon+:
Beyond the news and mainstream media, Lebanon is a rich place when it comes to alternative content. 
On July 8, Sarde after Dinner podcast with Médéa Azouri & Mouin Jaber, hosted none other than former Nissan Chief Carlos Ghosn talking about his escape from Japan and his return to Lebanon. 
On Beyond Politics, Luna Safwan discussed with young lawyer Majd Harb the port explosion, the judiciary, assassinations and mysterious murders. 
Till next week wear your mask and stay clear of the new Delta variant. Also, vaccinate.