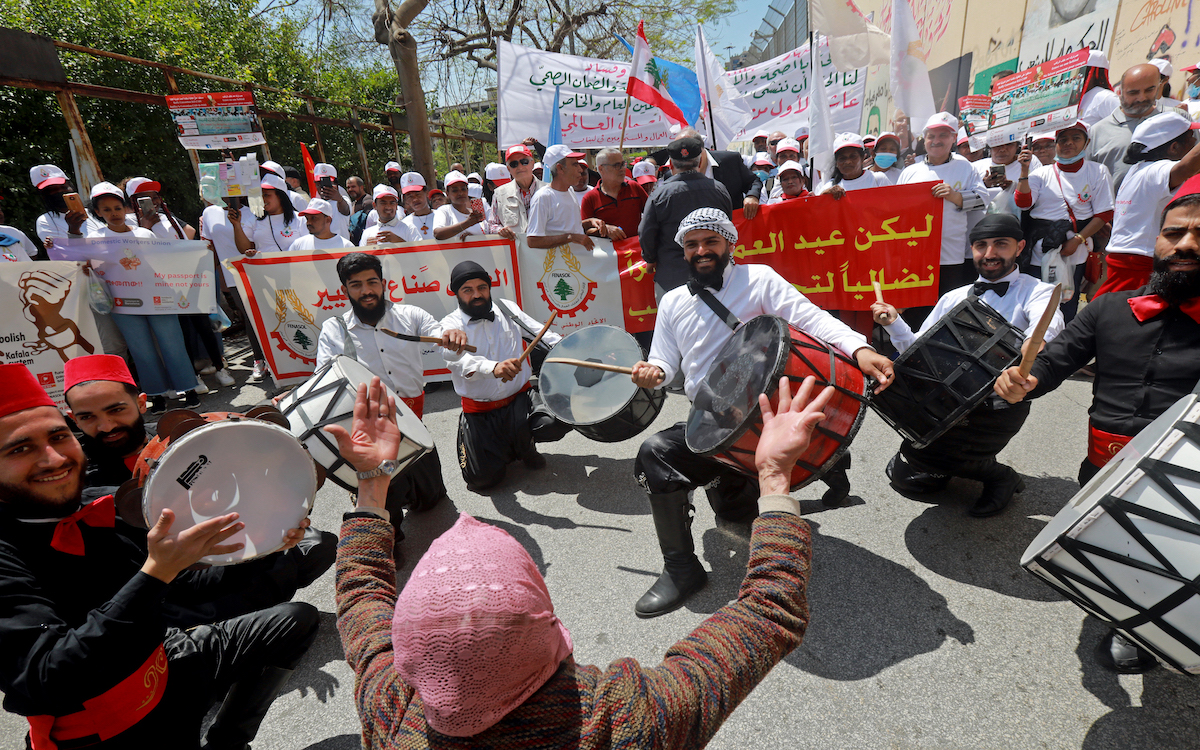 Supporters of the Lebanese Communist Party and members of the labor syndicate rally in Beirut on May 1, 2023 to mark the International Workers' Day. Photo: AFP
It has been 182 days since Michel Aoun relinquished the power of the presidency.
It has been six months since Lebanon has last had a president, making this the second longest presidential vacuum in Lebanon's history (technically the vacancy between the presidencies of Emile Lahoud and Michel Sleiman was 183 days but it is highly unlikely that Parliament will elect a president in the next 24 hours).
Instead of debating and holding votes to finally elect a president (the last vote was in January) at a time when the country is in the midst of an unprecedented economic crisis, Lebanon's politicians have decided that it is more productive for them to talk about how important it is to elect a president soon and to criticize one another for not doing enough to help the process along.
I wrote about this same topic back in March, and it speaks volumes that nothing has changed since then.
Hezbollah and Amal continue to back Sleiman Frangieh for the presidency, Samir Geagea and opposition politicians continue to refuse Frangieh's nomination, deeming him a Hezbollah pawn, and Gebran Bassil continues to criticize everyone else in an attempt to promote his name as a potential candidate.
During a visit to Lebanon, Iran's foreign minister, Hossein Amirabdollahian, hot off the heels of reestablishing diplomatic relations with regional rival Saudi Arabia, said that Iran "will back any election and any agreement that is reached between parties in Lebanon regarding the electing of a president," which would ring hollow if Hezbollah, an Iran-backed group that has gained an increasing dominance over Lebanese politics, did not essentially hold a veto for whoever is to become the next president, assuring Iran that no pro-US or anti-Iran politicians will ascend to Baabda.
Following Amirabdollahian's departure from Lebanon, Naim Qassem, Hezbollah's deputy secretary-general, said that Lebanon had two choices when it came to the presidency, "one is serious and the other is a vacuum, and all local indicators and regional developments do not predict" that this will change.
This prompted Bassil, speaking from Jezzine in the south, to subtly criticize his longtime ally by insinuating that Hezbollah is trying to impose its choice for the presidency on the Lebanese people.
Naturally, this then saw the Lebanese Forces respond to Bassil's statement with more criticism.
All of this may be dialogue, but it is entirely unconstructive.
It does little to elect a president and it does even less to help the Lebanese people.
It is just all talk.
In Lebanon
In the crosshairs: Syrian refugees in Lebanon have continued to be the target of a growing number of Lebanese people and politicians.
The Bint Jbeil Municipality in south Lebanon required all Syrians living in the area to register with the municipality or risk legal action being taken against them – something that almost certainly means deportation.
Najib Mikati's caretaker government has also called on the United Nations High Commissioner for Refugees (UNHCR) to turn over information on refugees in Lebanon and has also contemplated having the Ministry of Justice turn over all Syrians in detention to authorities in Damascus.
This has permeated Lebanese society and led to dueling protests in Riad el-Solh Square in Beirut during a march for Labor Day, where protesters demanding the expulsion of Syrian refugees, which ironically included the Lebanese Communist Party, clashed at times with protesters coming to the defense of the refugees.
The Lebanese government and various municipalities have, in the past, taken actions against refugees in order to score cheap political points and to blame the situation in the country on anyone else but themselves.
Not invited: On Monday, May 1, a group of Arab countries met in the Jordanian capital Amman to discuss the return of Syrian refugees from neighboring countries with representatives from Jordan, Syria, Iraq and Saudi Arabia in attendance.
However, Lebanon, a country that has been making significant noise about wanting to return Syrian back to their home country, was notably absent from the meeting.
It is not clear if Lebanon was invited and just did not show up or was not invited in the first place.
The meeting also saw the Syrian government pledge to crack down on the drug trade stemming from its borders within a month. Captagon production and smuggling has been linked to the 4th Armored Division of the Syrian Armed Forces which is headed by Bashar al-Assad's brother Maher.
Iran in Lebanon: Amiradbollahian visited Lebanon for the first time last week since Iran and Saudi Arabia announced their rapprochement.
During the visit, Iran's foreign minister met with senior Lebanese officials as well as Hassan Nasrallah, secretary-general of Hezbollah, where he discussed Tehran's readiness to help Lebanon build new power stations in an effort to bring about an end to the country's electricity crisis.
He also said that the recent rapprochement between Iran and Saudi Arabia will have long-reaching implications that will help the region.
Some have taken this to mean that Saudi Arabia and Hezbollah might establish relations, something that would be a significant departure from the Kingdom's strategy of working in opposition to the Iran-backed group, and would be indicative of its more recent strategy of staying out of regional issues. It is also possible that it could be a concession required by Iran so that they would then make a concession on Yemen, a conflict that Saudi Arabia is desperately looking to bring to a close.
Cooperation: Lebanese and European Union judicial authorities have agreed to work together and exchange information in the ongoing cases against Lebanon's Central Bank governor, Riad Salameh.
This announcement came after judicial authorities from Europe visited Lebanon for a third time to question suspects in the case. Raja Salameh, Riad's brother, did not show up to his scheduled meetings under the premise that he was ill.
Salameh is under investigation in Germany, France, Luxembourg, Switzerland and Lebanon for alleged financial crimes, but has maintained his innocence throughout the investigations.
VAT Increases: The value added tax (VAT) is being increased from being calculated at the official exchange rate of 15,000 to the Central Bank's Sayrafa rate, which is currently at 86,500, as well as two other rates depending on where the product is being sold. 
This will almost assuredly lead to further inflation in a market where an increasing number of goods have become unaffordable for most people. 
The decision came during a cabinet decree on April 18 and was published on April 27. Outside of discussions on social media and in the media, the government has not really spoken about it. 
Domestic workers protest abuse: Domestic workers in Lebanon held a demonstration in Beirut on Saturday, April 29, to protest against the abuse and violence that they continue to face in their work environments.
The workers, coming from Sri Lanka, Bangladesh, and a multitude of African countries, called for the abolition of the Kafala system which has long been equated with modern-day slavery.
The protest took place two days before Labor Day in Lebanon on May 1.
The drama continues: The former head of the Syrian Socialist Nationalist Party (SSNP) and former minister for state and labor Assaad Hardan was expelled from the party on April 27.
The decision by the SSNP to kick its former leader out of the party came after rival factions within the SSNP, one of which is loyal to Hardan, clashed in the Metn area on April 21.
This decision by the SSNP to consolidate power internally is likely to split the party even further, with those loyal to Hardan potentially leaving along with him.
In the region
Iran in Syria: Iranian President Ebrahim Raisi will visit Syria on Wednesday, May 3, making him the first Iranian president to visit Syria since the start of the Syrian civil war in 2011.
This visit also comes in the wake of the recent rapprochement between Iran and Saudi Arabia and Saudia Arabia's announcement that it would also be reestablishing relations with Syria.
Raisi will be visiting Syria for two days.
Iran has been a major backer of Bashar al-Assad's regime, and actively supported Assad during the civil war.
ISIS loses its leader…again: Turkish President Recep Tayyip Erdogan announced that Turkish forces killed the leader of the so-called Islamic State Abu Hussein al-Qurashi over the weekend.
ISIS has yet to confirm its leader's death.
Al-Qurashi was reportedly killed in Jindiris, an area of Syria controlled by Turkish authorities that was severely damaged in the February 6 earthquake.
The death of al-Qurashi will likely serve as a setback for ISIS, as they have been losing leaders as quickly as they can name them.
More poisonings in Iran: Schools in Iran have reported new poisoning attacks, sparking fear throughout the country.
In recent months, there have been around 300 reported poisoning attacks on girls' schools in Iran, targeting more than 100 schools, many of them in Kurdish areas.
Iranian authorities have reportedly arrested more than 100 suspects in the poisonings, but no charges have been filed yet.
Critics of the Iranian government have argued that it is the government itself that is poisoning people in an attempt to crack down on dissent.
Iranian cleric killed: Ayatollah Abbas Ali Soleimani, a senior cleric and member of the Assembly of Experts which advises Iran's supreme leader, Ayatollah Ali Khamenei, was shot and killed while sitting inside a bank in the Mazandaran province on Wednesday, April 26.
The killing came as a shock to the country's religious establishment, which had just quelled months of unrest after a popular uprising began in September 2022.
The killing of Soleimani did not appear to be politically motivated, but the targeting and harassment of clerics in Iran have been on the rise since the start of the popular uprising.
The shooter was a guard at the bank who fled the scene after the gun was taken from him. He was later arrested by authorities.
The right comes out to fight: After weeks of silence, Israel's right and supporters of Prime Minister Benjamin Netanyahu came out en masse to support the prime minister and his government's attempts to rewrite the country's judicial laws.
This was the first time that the Israeli right demonstrated in such numbers, with the protest believed to have drawn around 200,000, since the start of the opposition to the government's planned judicial reform laws.
Opponents of the reforms argue that it would end democracy in Israel, while supporters of the government say that it is needed to counteract the left-leaning tendencies of the judiciary.
The bill is currently on hold and is expected to be picked back up in the coming weeks.
What we're reading
Clean up: The February 6th earthquake in Turkey caused unimaginable damage to southern Turkey and northern Syria. Now, as The Washington Post's Kareem Fahim found, residents of southern Turkey are dealing with the problem of cleaning up the damage that was caused and the "mountain of rubble" that comes with it.
Revolutionary, Soldier, Diplomat, Spy: When Alireza Akbari, a former deputy defense minister, was executed by the Iranian government in January 2023, for spying, many doubted their claims. However, The New York Times's Farnaz Fassihi and Ronen Bergman pieced together his career and found that he was more than just a trusted Iranian insider, but also a 15-year spy for the British.
Lebanon+
Podcasts: After a week off, Sarde after dinner is back with a new episode with Mouin Jaber and Médéa Azouri speaking with Bassel Khaiat, a celebrated Arab actor, about his acting career, taboos in cinema, and the evolution of Arab storytelling on screen.
A week after having Jean Kassir on the podcast, Ronnie Chatah returns with a new episode of The Beirut Banyan where he speaks with Lara Bitar, editor-in-chief of The Public Source, about her journey into journalism, the work that The Public Source does, and what it means to be "radical."
Until next week, follow NOW Lebanon on Twitter, Instagram, Facebook, and LinkedIn, and subscribe to our weekly newsletter. And stay safe!