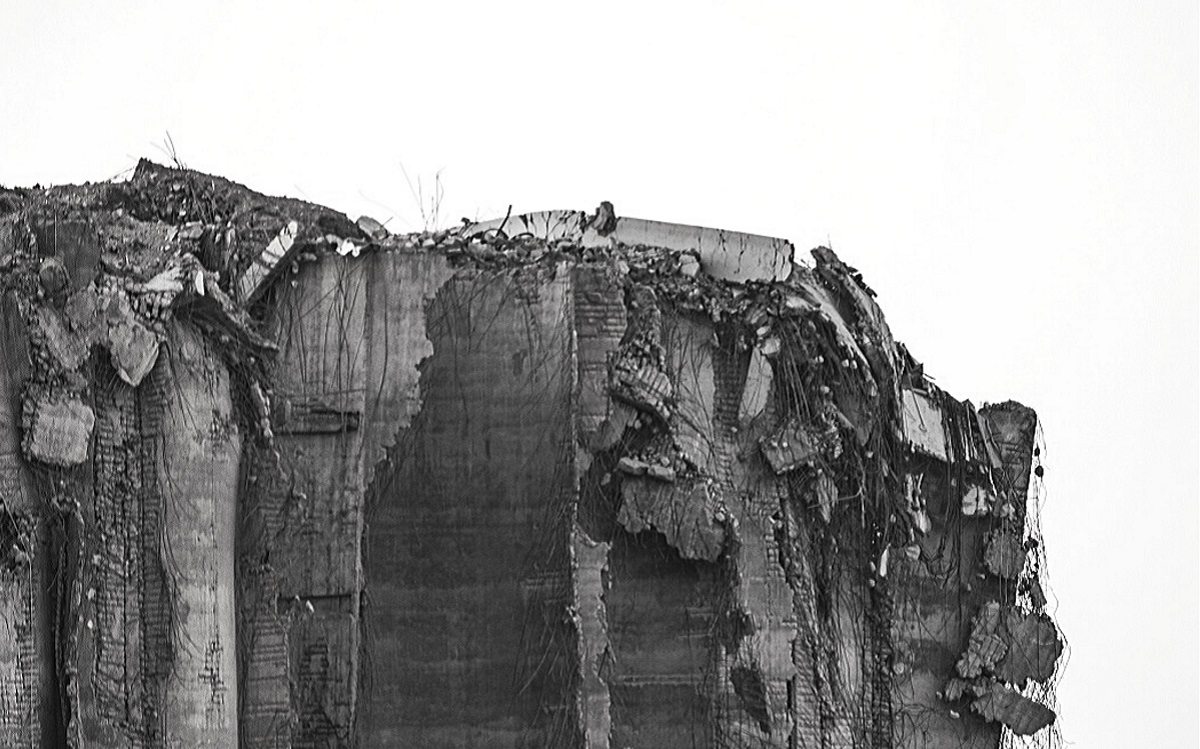 Photo: Jo Kassis, Pexels. Graphic effects: NOW.
Memorialization raises important ethical choices: who is remembered, how they are remembered, the experience the act of memorialization evokes in viewers.
Thank you for reading this post, don't forget to subscribe!
If your memorial triggers a fresh memory of trauma for half the city you live in, don't memorialize yet. Hold on for later. Keep silent if you can't hear the screams. 
It's not the time to talk about rebirth from ashes, about angels and gestures.  Recycling debris is adapting to the pain, transforming it and living with it.  Moving on contains an acceptance of the crime that can only be possible after closure. 
In Beirut, the pain is fresh, the wounds have not healed, justice was not served and there has been no closure. You cannot put up a memorial for a crime that is fresh, unresolved and unpunished without ridiculing the pain and anger of the people who survived it last year and are still struggling to survive it. 
Hello. This is your weekly roundup from NOW. It's hard to say anything meaningful enough at a time like this 
Memorials commodify pain: "The memorial is a part of this whole trend in which pain is commodified and its imaging is the central part. Images are an economy of information, of attention. It's not something that you see and move on from. In the case of the memorial, it can predict a reality. It's the creation of a world," architect, sound artist, and researcher Mhamad Safa told Angela Brussel back in May, when she was researching the ethics of post-blast memorialization for NOW. 
The unseen victims: A year after the Beirut port explosion, the Anti-Racism Movement revealed that some victims were kept off the official lists because they were migrant workers, and Syrian or Palestinian refugees. Moreover, some of the wounded or those affected in any way by the blast were not given aid because they were part of the "marginalized nationalities". 
Strong Lebanon Bloc MP George Atallah submitted a draft bill to the Parliament to exclude foreign victims from the compensation approved by Parliament in order to avoid "incurring any additional financial obligations to the Lebanese treasury."
View this post on Instagram
The probe: In the year since a monster explosion disfigured Beirut, the local probe has yet to yield significant arrests or even identify a culprit, with politicians widely accused of stalling progress. Also, the call for an international fact-finding mission has been widely ignored. 
Good thing they smuggled most of it: The amount of ammonium nitrate that blew up at Beirut port last year was one fifth of the shipment unloaded there in 2013, Reuters reported, quoting an FBI report that adds to suspicions that much of the cargo had gone missing. It didn't come as a surprise to anyone in Beirut that part of the cargo was missing. But the realization that the blast could have been six times worse hit hard. 
Life and death: Safety of magistrates and investigators has long been a problem in the Lebanese justice system, and it has been also largely undiscussed in mainstream media. However, by openly comparing Tarek al-Bitar to anti-Italian Mafia magistrate Rosario Livatino – sanctified after he was assassinated, it becomes clear what everyone is thinking when it comes to what he may be up against.  Not that Lebanon doesn't have enough examples on its own – one does not need to look towards Italy to find accounts of assassinated magistrates and investigators. Major Wissam Eid died in 2007 for the mere reason that he did his job well enough to find who killed former PM Rafik Hariri. 
NOW's Dana Hourany spoke to some of the lawyers courageous enough to talk about the safety problem and its huge impact over the independence of the justice system. 
A state in shambles:  At least five people, including three Hezbollah members, were killed south of Beirut on Sunday when a funeral procession for a party member was ambushed by what local media called "Arab tribesmen". The funeral was for a Hezbollah member killed the night before in a tribal vendetta. The shooter was the brother of a man killed a year before in an altercation with the Hezbollah member. In tribal terms, it was fair, it was an eye for an eye.  In state terms, it was failure. 
The clash illustrated, yet again, that political factions in Lebanon, including Hezbollah itself, also pay tribute to ancient tribal lineages that they cannot control but only can make deals with. 
No cabinet: Lebanon's newly designated prime minister Najib Mikati said Monday that a cabinet lineup would not be announced by mid-week to coincide with the anniversary of the deadly Beirut port blast.
"Frankly, with regard to the government, I was hoping the pace would be faster," he said after meeting President Michel Aoun, whom he said he would now see again on Thursday.
Never-ending deadlock: With the August 4 deadline approaching, analysts told Nicholas Frakes that Mikati had a small window to form the cabinet that he wants. But, in fact, whether it is Mikati or Hariri, the compromise the PM needs to reach with president Michel Aoun over the blocking third is the same. 
Sanctions: They may actually happen. One thing is sure, it's a big deal. For Brussels to finally move quickly on the Lebanese file, something must have gone terribly,  terribly wrong in Beirut. Belarus had to hijack a plane to kidnap, beat up and interrogate a young journalist to get Brussels to impose sanctions within the month.
Well, Lebanon has got itself a European Council-approved framework for those sanctions and, right now, what is missing is a list of people and "entities". Ironically, a few years back, Brussels could not blacklist Hezbollah for its intervention in Syria and it took debates over debates to finally blacklist its "military wing". Some people thought there was a difference. Well, now, "this framework provides for the possibility of imposing sanctions against persons and entities who are responsible for undermining democracy or the rule of law in Lebanon," the EU said in a statement on Friday. 
The bloc's 27 member states must still vote unanimously for the list of people and entities to be sanctioned. That's may be a challenge. But my take is that the Lebanese elites may not have too many friends in high places in Europe. 
The case for sanctions: Najib Mikati's appointment as PM is simply the oldest trick in the book for Lebanon's political elites to convince the international community that the solution for Lebanon's recovery is on the domestic front, NOW's former managing editor and current Friedmann Fellow at The Washington Institute's Geduld Program on Arab Politics Hanin Ghaddar writes. She says that going all the way and imposing sanctions on politicians and political factions that have been preventing government formation is the real way out. 
If most agree with the first part, some commentators would skip the sanctions. 
A compelling bear case against a potential Mikati gov by @haningdr. She argues that we're wasting everyone's time & the west is being suckered by Hezbollah & political class. That said, the alternative she proposes (more sanctions) isn't necessarily betterhttps://t.co/pFkuYl4rZ5

— Mustapha Hamoui (@Beirutspring) July 29, 2021
Lebanon+: 
Two groups of heroes have been the highlights of the Lebanese social media the past week.
The member of the fire squad that battled one of the largest wildfires Lebanon has experienced this year, which claimed the life of a 15-year-old volunteer. 
View this post on Instagram
The blaze that started last Wednesday has also claimed hectares of forest in Akkar and expanded to the border with Syria. 
The devastating 'before and after' from Kobayat. pic.twitter.com/ga0tXyP0q1

— Marina Chamma – مارينا شمّا (@eyeontheeast) July 30, 2021
The second batch of heroes are once more the Lebanese Armed Forces which are usually called to put to rest clashes between various armed groups. The general support for the LAF came with Sunday's clashes in Khaldeh, between Hezbollah and armed Sunni tribesmen, in a general push to encourage the state. However, one bird does not make spring, and one security institution does not make a state. Just sayin'. 
View this post on Instagram
In terms of podcasts, Sarde after Dinner, not yet on vacation like everyone else, hosted TV anchor and journalist Dima Sadek discussing media in Lebanon from political affiliation of mainstream outlets to setting the line between journalism and activism. 
Until next week keep the mask on and don't give up. Lebanon is still worth it.