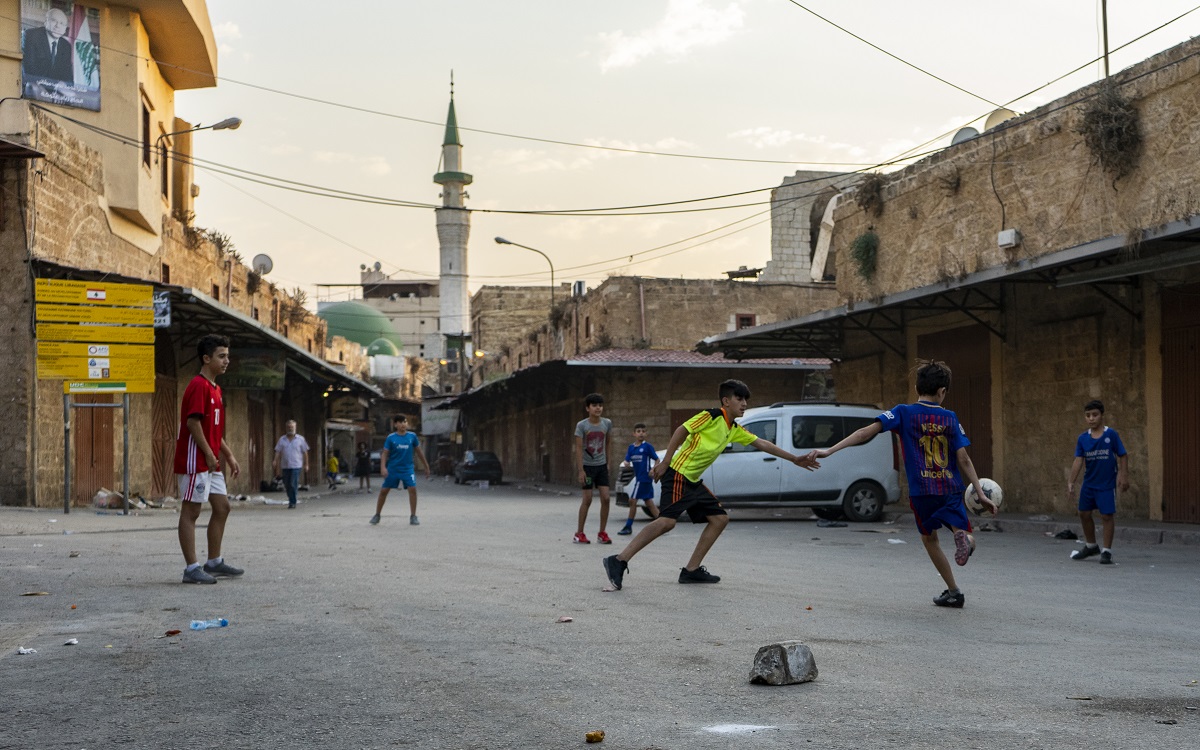 Photo: Matt Kynaston, NOW.
Over 30 percent of the children currently residing in Lebanon are going to bed hungry and skipping meals.
About 77 percent of households don't have money to buy enough food. 
One in ten children has been sent to work to put food on the table and 15 percent of children dropped out of school. 
Let these numbers sink in.
View this post on Instagram
Hello. This is your weekly roundup from NOW. It's not all you need to know, but it will link you to a few reads and listens that may help you understand how and why Lebanon seems to be disintegrating a little bit more every day.
A generation at risk: A study released by UNICEF last Thursday showed that children in Lebanon are the most affected by what has been deemed the world's worst economic collapse in recent times. 
"With no improvement in sight, more children than ever before are going to bed hungry in Lebanon", said Yukie Mokuo, UNICEF Representative in Lebanon.
This should put everything else in a different perspective. But it doesn't. 
Lebanon has been without a government for over 10 months, money for aid keeps disappearing into currency exchange games and into a banking system itself hungry and struggling to survive. Western countries are still pondering how and who to impose sanctions on, while an angry population keeps fighting, stabbing, and shooting each other at gas stations, whilst fearing imminent increases in bread prices. 
Prayers and solidarity in spirit are not going to help hungry children much. The solution remains in the transactional world, where religion is just a bargaining chip for those who portray themselves as the defenders of their sect. 
Eleven months later: Families of the Beirut Blast victims are still demanding justice for their loved ones. 
Here I go again (on my own): The chief investigator of the Beirut port blast probe, Judge Tariq Bitar, is set to prosecute (again) many prominent Lebanese politicians and security officials, the NNA reported on Friday evening. 
Learning from past mistakes:  Unlike his predecessor Fadi Sawan, who summoned politicians for investigation last December and was sued and eventually fired for not requesting all the necessary clearances and permissions, Bitar followed procedure by the book. And made the whole process public. 
On Friday evening he called a pool of journalists and told them he sent requests to all the institutions that may have a say in removing immunity for their members: Parliament, Cabinet, Ministry of Interior and even the Beirut and Tripoli Bar Associations, since some of the former ministers are lawyers. 
Some politicians said they would cooperate. Others kept silent. Director General of the Public Security Agency, Major General Abbas Ibrahim, took to billboard advertising. 
General Security chief Abbas Ibrahim seems to have already launched a PR campaign, days after he was called for investigation over the Beirut port explosion. What better way to deal with accountability than billboards? pic.twitter.com/X9TkxGDzvD

— Nizar Hassan || نزار حسن (@Nizhsn) July 4, 2021
Fighting over liquid gold: A scuffle broke out between two families at a gas station in the al-Airounia suburb of Tripoli. One man brandished a knife, stabbing a man from the opposing family. Despite the best efforts made by the doctors at a government hospital, he succumbed to his wounds.
More and more fights are breaking out at gas stations throughout Lebanon as the fuel crisis continues to force people to wait for hours in line in the hopes of filling up their cars even just a fraction.
Wanna take a ride?: Have you ever dreamed of flying above Lebanon for 15 minutes with the Lebanese army in one of their helicopters? No? Well, the Lebanese army is giving you the opportunity anyway and all for the low price of $150… cash!
And it is not at all for fun. In 2020, the army announced that it would no longer be giving its soldiers meals that contained meat. Soldiers have also seen their salaries slashed as the Lebanese lira continues to devalue to the dollar. 
Rational thinking: During the June 30 session, as the country's politicians were supposedly sweating away since there was no electricity in the building at the time, the Parliament approved ration cards to help the country's poorest amid the gradual dissolution of subsidies.
These cards would give about 500,000 families some $93 per month to use to buy goods for their homes. The program will amount to around $556 million, which Lebanon doesn't really have. But that was not the MPs' concern, so they left it to the caretaker cabinet to locate the funds. 
The cabinet hopes that the World Bank will cover around $300 million of the cost through loans. They also hope some money would come from the International Monetary Fund, or, possibly, fall from the sky as everyone sits around waiting for it. 
(Fortunately) Turkey has rejoined the chat: All of Lebanon's energy woes are finally over (not!) as Turkey has come to save the day.
Turkish company Karpowership has agreed to reinstate its services to Lebanon "out of goodwill" after being threatened with a lawsuit. The two barges off of Lebanon's coast have started providing power to the country. 
Karpowership had previously supplied around a quarter of Lebanon's electricity before shutting off in May due to a dispute over missed payments. 
Forgive me, father: After visiting Iraq in March, Pope Francis said that his next Middle East trip would be to Lebanon, but now there is a little asterisk next to that visit.
If Lebanon wants to see a papal visit, then they need to form a new government, something that after  11 months has seen no success. 
The Pope was meant to meet with Lebanese Christian leaders on July 1, but only clerics made the trip to Rome, although it is hardly up to them to solve the political deadlock. Lebanese President Michel Aoun had his media team publishing photos of the head of state watching the pope on TV, alone, from his home in Baabda. Other politicians applauded the pope's initiative. So, yeah. 
United we conquer: Lebanese history tells us that only when the two homegrown mainstream currents met, constitutionalist and reformist together, did achievements of national scale ever materialize, writes NOW's publisher Eli Khoury. There is hope, as these two forces united on many key moments in Lebanese history, but the road seems narrow and long with a super political proxy making it hard to both implement reforms and steer clear of regional frictions. 
All we need is just a little patience: If civil society is to one-day claim agency and rule, it will come from firm principles and continued persuasion rather than misguided punishment and spontaneous accusation, Ronnie Chatah explains in his weekly column. 
It takes a city: Sexual assault has long been a taboo subject in Lebanon and throughout the Middle East. The sexual assault of a child even more so. Matt Kynaston looks at the issue of sexual assault of children and the culture meant to keep them silent in a society that blames it all on the victim.
Escaping hell: Tripoli residents have long been neglected by their politicians and, to a certain extent, by the rest of the country. With the various crises worsening, daily life there has become increasingly impossible, forcing people from all backgrounds to literally risk their lives to get smuggled to Cyprus in the hopes of building a life. Nicholas Frakes tells the heartbreaking story of one man who escaped torture in Syria, only to nearly die on a boat, and why others like him are taking the risk.
Permission denied: On June 28, NOW journalist Matt Kynaston was detained by Hezbollah while he was covering the ongoing fuel crisis at a gas station on Beirut's Airport Road. While he was released a few hours later, his detention raises the bigger question of why a non-state actor like Hezbollah has the right to dictate when and where journalists are allowed to report in territories under their control. NOW's editor Ana-Maria Luca argued against this system that has persisted for decades in an editorial she penned after her colleague's detention.
Matt spoke about the detention and his reasons for continuing to do his job on The Beirut Banyan podcast. Spoiler: it's a bit more than a reporter's story. 0
Red card: Football has long been a beloved pastime in Lebanon with friends sitting around the TV to watch whatever cup is playing. People who shout, applaud and curse when someone misses a penalty. That is no longer the case. With the economic crisis tightening its grip around Lebanon, Wael Taleb looks at the lack of interest in this year's European Cup for L'Orient Today.
Love is blind, sectarianism is not: In 2019, Abdallah Salam and Marie-Joe Abi-Nassif got married in Lebanon. The catch? Salam is a Sunni Muslim and Abi-Nassif a Christian. Civil marriage is not recognized in Lebanon, making their union all the more challenging. Now, two years after their marriage, they are still fighting with the Interior Ministry to register the union. Nour Braidy looks at the couple's fight for L'Orient Le Jour.
The walking dead: The economic crisis in Lebanon has no end in sight. In fact, things only appear to be getting darker, literally, as power cuts become more frequent and fuel becomes more scarce. The Associated Press's Bassem Mroue writes about the dire and "unlivable" situation that the Lebanese people are now facing.
From Russia with love: Nearly a year since the August 4 Beirut port explosion devastated the capital, a Russian company is looking at possibly rebuilding the silos at the port that were once used to store grain. In addition to that, several German companies have said that they are looking at a multi-billion-dollar plan that would rebuild the port as well as the surrounding neighborhoods. No deals have been signed and the companies are inspecting the scene before concrete proposals are made.
Lebanon+: 
Sarde after Dinner podcast had musician and philosophy teacher Rabih Salloum as a guest, talking about the absurd we all are getting more and more used to, the difference between adapting to a new reality and accepting a new reality, and the dangers of popular psychology. Really interesting to listen to; subtitles included. 
Nafas Jdeed, a rather new podcast by Democracy Reporting International Lebanon hosted by Zaven Kouyoumdjian, hosted last week architect, urban planner, and activist at Li Haqqi Aline Fleihan and architect Marianne Geagea, both winners of seats in the Council of Delegates of the Order of Engineers and Architects in Lebanon, where opposition groups scored a huge win on June 27. The podcast is at its third episode already and is dedicated to voices of change in the Lebanese civil society. It is all in Arabic and doesn't provide subtitles. 
Until next week try to keep wearing that mask and get vaccinated, as the new and highly contagious Delta variant has been officially detected in Lebanon. However, it is worth noting that there may have been cases before the official announcement on Friday evening, as no one had been testing for it.